A Little in Love by Florence Keeling – Book Review
A Little in Love by Florence Keeling – Book Review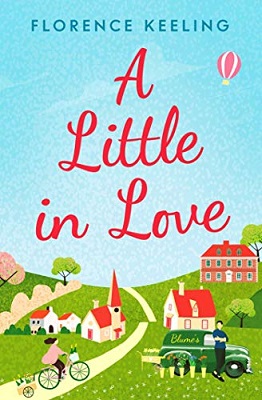 A Little in Love
Author – Florence Keeling
Publisher – Simon & Schuster UK
Release Date – 21st September 2021
Pages – 238
Format – ebook
Star Rating – 4
I received a free copy of this book.
This post contains affiliate links.

Synopsis
The little village of Weddington is fast becoming THE place to get married. With its stately home, castle and two churches it has something for everyone, and now, famous after appearing in huge romcom movie hit A Little In Love, it's hosting a monthly wedding fayre…
Rose Pedal is the proud owner of Pedals & Prosecco, a brand new business serving ice-cold fizz from a vintage bicycle, and she's excited to be attending her first wedding fayre. But, on the way to Weddington Hall she's involved in a near miss crash involving dashingly handsome James from Blume's Florist.
Arriving at the beautiful stately home drenched and disheveled, Rose is horrified to find James is not only not sorry for nearly knocking her off her bike, but he's gatecrashing her allocated spot on the lawn. His arrogance gets her back up and it's definitely a case of hate at first sight. But as the wedding fayre season continues, James gently wins Rose over, and their relationship starts to bloom.
Can being just 'a little in love' help Rose and James find their own happy-ending…
At the start of A Little in Love, we meet Rose Pedal who after giving up her studies has moved back home to the little village of Weddington and in with her dad, the local Vicar John, and his wife Janet.
Rose decides to start up a new business and has the idea to serve drinks from a vintage bike which she calls Pedals & Prosecco.
Whilst on her way to Weddington Hall for her first Wedding fayre gig, she nearly gets run over by James Blume, who is the florist at the fayre.
She comes to realise that she will have to work alongside James at the hall and has to suck it up and get to know him. Soon they face troubles of their own and have to deal with meddling people.
The build-up of their relationship is so lovely after a sticky start and it has many will-they-wont-they moments. Although it was a little slow to get started the story soon picks up in the second half and grabbed my attention.
Florence Keeling uses great descriptive writing of the village and villagers which makes you want to jump into the book and be there with them. This is a feel-good, uplifting story that will put a smile on your face. A Little in Love is needed in these uncertain times.
---
Purchase Online:
Florence Keeling
I was born in Coventry but now live in Nuneaton. I married the love of my life over 20 years ago and we have two almost grown up children. We share our lives with two mad dogs as well.
Writing is a great passion of mine, that one day I hope to be able to turn into a career but until that day comes, I will continue working in accounts and payroll.
I also write for children as Lily Mae Walters.
A Little in Love is my first novel to be published with Simon and Schuster and I'm so excited for everyone to meet The Weddington gang.
Author Links:
---
The above links are affiliate links. I receive a very small percentage from each item you purchase via these links, which is at no extra cost to you. If you are thinking about purchasing the book, please think about using one of the links. All money received goes back into the blog and helps to keep it running. Thank you.