One Summer in Rome by Samantha Tonge – Book Review
One Summer in Rome by Samantha Tonge – Book Review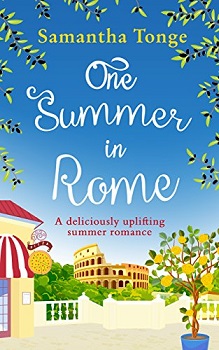 One Summer in Rome
Author – Samantha Tonge
Publisher – HQ Digital
Pages – 384
Released – 9th May 2018
Format – ebook
Reviewer – Stacey
Rating – 5 Stars
I received a free copy of this book
Post contains affiliate links.
To Rome…with love?
Mary Smith is turning her very ordinary life upside-down! She's bought herself a one-way ticket to Rome and is ready for a summer she'll never forget.
Men might be off the cards for waitress Mary, but within hours of arriving at the utterly charming family-run La Dolce Vita pizzeria, she's already fallen in love with the bustling capital!
Only Dante Rossi, the mysterious (and drop-dead gorgeous) chef seems displeased with her arrival. And in the heat of the kitchen, it doesn't take long for long-buried secrets to surface and sparks to fly…

Mary Smith had a tough upbringing. She was brought up by her Grandparents from a very young age after her mum was unable to look after her. Then aged five she was taken into care and moved from one foster family to another.
She never felt like she fitted in or was loved. Now her boyfriend has broken up with her for a new life living and working in Dubai.
Mary decides that she needs a new start and when she is offered a waitress job in a pizza restaurant in Rome, with accommodation, she grabs it with both hands and books a one-way ticket.
The Rossi family (the restaurant owners) are a lovely welcoming, friendly family who've had a tough few years themselves, with the death of their mother/wife and blinding of their son, ex-police officer Dante. Everyone is welcoming to Mary, except Dante who doesn't believe the place needs an English waitress and is not happy with Mary being given the job.
There is also the matter of the family trying to keep the restaurant on the famous Lombardi List of best restaurants in Rome, as a saboteur tries to knock them off it.
One Summer in Rome is a delightful chick-lit book with adorable characters and a perfect plot that plays with your senses, as the sights and smells of Rome jump off the page, especially the delicious food.
Mary is such a sweet, mixed up character, that is just trying to find her place in the world. She's never known true love and doesn't open her heart easily. She wants somewhere she can finally call home, could Rome be her answer?
Dante is an ex-police officer injured in the line of duty. He tries to keep himself busy so that he doesn't have to deal with the issues that caused his blindness and the fallout afterwards. He doesn't like people pitying him and is oh so stubborn. He's also rather sexy too!
There are numerous subplots that interweave themselves in the main story. All were a delight and all effortlessly fitted together and made the story truly beautiful.
This is one of those books that you can sit and relax with, one that you will find the time slipping away in the background as the book is too perfect to put down. It is heart-warming and is the kind of book you want when you need a pick-me-up.
Reviewed by Stacey
---
Purchase online from:
---
About the Author

Samantha Tonge lives in Cheshire with her lovely family and a cat who thinks it's a dog. When not writing she spends her days cycling, willing cakes to rise and avoiding housework. She has sold over 80 short stories to women's magazines.
Her bestselling debut novel, Doubting Abbey, was shortlisted for the Festival of Romantic Fiction best Ebook award in 2014. Game of Scones hit #5 in the UK Kindle chart and won the Best Romantic Ebook category at the 2015 Love Stories Awards.





---