The Planets All Shone by Nora Fleischer – Book Review
The Planets All Shone by Nora Fleischer – Book Review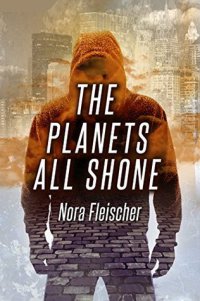 The Planets All Shone
Author – Nora Fleischer
Publisher – Jennifer Lee Goloboy
Pages – 44
Release Date – 25th May 2016
Format – ebook, audio
Rating – 3 stars
Reviewer – Stacey
I received a free copy of this book
Post Contains Affiliate Links

Dana Elson never should have drunk that soda. Now she's sharing her body with the clone of a dead man– and she and the clone's gun-happy boyfriend are on the run from the sinister Mahler Corporation.
Can Dana to get her own body back before Mahler catches up to them?
The Planets All Shone is a buddy comedy for fans of the great American road trip.

Have you ever read a book, gotten to the last page and wondered what it was all about? Well, for me this was one of those books!
The Planets all Shone is an extremely strange book, in a sci-fi way strange.
Imagine getting into a rental car and not realising that the soda in the car isn't yours and then swallowing a mouthful of it. Then imagine that the liquid, which was revolting, made you physically sick, and then whilst you are sick, you are approached by a man demanding the drink back, and muttering something about you having drank a rebooted code for his boyfriend Jay. Still with me?
What happens next will shock you! You wake up and find that you are now sharing your body with another person, not just any other person, but someone of the opposite sex who can talk and have conversations through you.
Well Dana Elson is just that person. Now if it were me I would be freaking out, getting angry, upset, and my emotions would be running on high alert. Not Dana though. She seemed to take the news that she was sharing a body with someone else quite well. Yes, Jay did annoy her, but I just couldn't fathom out how someone would be so calm in that situation, especially when this person's boyfriend, Adam, won't leave her alone.
The book mainly focuses on the three people. Adam I just couldn't warm to, he was a bit to arrogant. Jay was funny and I often forgot that he was sharing a body with Dana. Dana was hit and miss. One minute I was warming to her, the next she was getting on my nerves.
I just couldn't get my head around the weird plot though. It may have been down to the book only being 44 pages long, and that the author has tried to cram a lot into the story. The book did peak my interest at times, especially the comical moments in it. The story is also exceptionally fast, and you will get through it in no time.
If you like unusual sci-fi stories than you will The Planets All Shone as it is a quick read. Unfortunately, it wasn't really my cup of tea, but it did give me a giggle.
Book Reviewed by Stacey
Purchase Links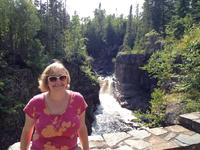 I live in Minneapolis, MN, with my lovable husband Sven and my adorable children Wolfgang and Anastasia.
I enjoy running, cooking, and embroidery.
Author Links