The Sunflower Cottage Breakfast Club by Lynsey James – Book Review
The Sunflower Cottage Breakfast Club by Lynsey James – Book Review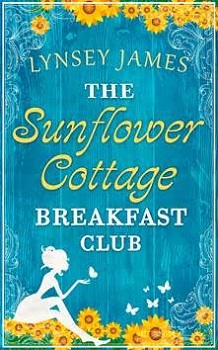 The Sunflower Cottage Breakfast Club


A Luna Bay novel – Book Two
Author – Lynsey James
Publisher – Carina
Pages – 218
Release Date – 1st August 2016
Format – ebook
Reviewer – Stacey
I received a free copy of this book< Post Contains Affiliate Links

The perfect summer romance for a sunny afternoon and a picnic in the park
Emily Reed is having a bad day. Her mother has just dropped a devastating bombshell—the dad she's known and loved for twenty-five years isn't her biological father!
Desperately in need of answers, Emily heads to Luna Bay covering her personal quest up as a work trip to Sunflower Cottage B&B.
Setting up the 'Sunflower Cottage Breakfast Club' should be a great way to meet the locals and maybe even find out who her father is. The only problem is brooding and insanely gorgeous, Noah, who is determined to make Emily's stay perfectly uncomfortable.
Discovering the truth after all these years was never going to be simple, but Emily will stop at nothing to uncover her past… even if her heart is getting in the way!

Emily Reed loved her high-powered job at the Walter Marshall chain of hotels, and what could be better than a promotion just around the corner. Unfortunately for Emily, the promotion is offered to someone else, the woman who has been getting 'cosy' with the boss.
Angry and upset about losing the promotion, she goes for dinner at her parents house, where her day just gets worse. Her parents tell her that the man she has know as her dad all her life, actually isn't her biological father.
Emily feels that she needs to take some time away from work and decides to use the time to find her 'real' father. She heads to Luna Bay, Yorkshire, the place her mother thinks her dad is still living in.
Her boss decides that she can have a working holiday instead of time off, as there is a cottage, a little B&B, that he would like her to get the owner to sign over to their company. Others have tried and failed to convince the owner to sign. Can Emily complete her task, which comes with the chance of another promotion, and find her father?
This is the second book in the Luna Bay Series. I haven't read the first so I was a bit dubious about reading this book, but I shouldn't have worried though, as this book can be read as a stand-alone.
Emily is a bright, young woman with a high flying career. She is a tough cookie, but her luck recently seems to have dried up. She finds it hard to separate her working life and days off, preferring to stay in executive mode all the time, thus making her seem a little stand-offish to others around her.
Her arrival into Luna Bay doesn't go according to plan. From her car breaking down in a country lane, falling over, and then having to walk miles in her muddy suit, what more could go wrong? She then walks into an arrogant bloke trying to find his dog, and nearly knocks him over. This man turns out to be Noah, the local mechanic, a kind of surrogate son of the cottage owner, Rose, and he has taken an instant dislike to her.
The book is a really sweet, easy read, that will set you in the mood for summer. The banter between Emily and Noah can be brutal at times, and you do wonder how two people who seemed to detest one another can start to see eye to eye. The answer comes when Rose breaks her leg and Emily decides to help Noah run the B&B.
The breakfast club that Emily and Noah decide to run, to bring in some extra money and the local community together, doesn't feature that much, but I thought it was a really clever idea.
The writing flows naturally, and the book, with it's fabulous characters and beautiful scenery, had me keep turning the pages quickly, determined to find out what Emily would do regarding getting the cottage signed up to her company. Would she stay in executive mode and complete her task in order to get that promotion, or would we get to see a lighter side to her?
I loved The Sunflower Cottage Breakfast Club and finished it in two days, it is very much unputdownable! I look forward to reading more from Ms. James.
Book Reviewed by Stacey
Purchase Links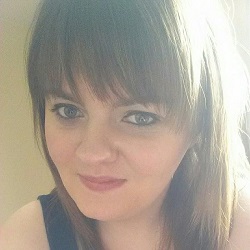 Lynsey James was born in Fife in 1991 and has been telling people how to spell her name ever since. She's an incurable bookworm who loves nothing more than getting lost in a good story with memorable characters.
She started writing when she was really young and credits her lovely Grandad – and possibly a bump on the head from a Mr Frosty machine – with her love of telling stories. She used to write her own episodes of Friends and act them out in front of her family (in fact she's sure she put Ross and Rachel together first!)
A careers adviser at school once told Lynsey writing wasn't a "good option" and for a few years, she believed her. She tried a little bit of everything, including make-up artistry, teaching and doing admin for a chocolate fountain company. The free chocolate was brilliant.
When Lynsey left my job a couple of years ago, she started writing full-time while she looked for another one. As soon as she started working on her story, Lynsey fell in love and decided to finally pursue her dream. She haven't looked back since.
When Lynsey's not writing, eating cake or drinking tea, she's daydreaming about the day Dylan O'Brien FINALLY realises they're meant to be together. It'll happen one day…
Author Links