The Bear Who Couldn't Sleep by Caroline Nastro – Book Review
The Bear Who Couldn't Sleep by Caroline Nastro – Book Review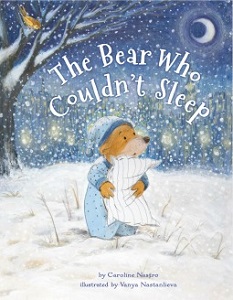 The Bear Who Couldn't Sleep
Author – Caroline Nastro
Illustrator – Vanya Nastanlieva
Publisher – North-South Books
Pages – 32
Release Date – 1st November 2016
Format – ebook, paperback
Reviewer – Stacey
I received a free copy of this book
Post Contains Affiliate Links

There's no place like home when it's time for bed. When Bear can't sleep, he goes on an adventure and discovers the wonders of New York City a parade, Central Park, hot dogs, and more! But when he finally gets tired and looks for a place to rest . . . he learns why it's called the city that never sleeps.
What s a bear to do?
Caroline Nastro's gentle adventure and Vanya Nastanlieva's engaging illustrations are sure to comfort and delight!

'The Bear Who Couldn't Sleep' is an enchanting children's story, filled with wondrous illustrations by Vanya Nastanlieva.
The book centres around a little bear cub who just can't sleep. It's winter time and he should be hibernating, just like his mum and brothers, but bear just can't seem to be able to fall asleep.
As he is wide awake, he decides to venture out of the family den and see if he can find someone awake to talk to. He soon realises that all of his neighbours are fast asleep too. He starts to walk further and further away from his den, until he strolls into New York City.
Whilst he is there he decides to see all of the sights that 'The Big Apple' has to offer, from Central Park to the Natural History Museum. But what will happen to bear when he suddenly becomes tired, in the city that never sleeps?
Having recently returned from a trip to New York City, it was lovely to see all the wonderful sights that I visited, drawn so beautifully.
The little bear is very cute and adorable, and the story is certainly heart-warming, leaving me with a smile on my face. The feel of the book really gets you in the mood for winter, with the snowy pictures.
Younger children will find The Bear Who Couldn't Sleep fascinating, and it would make the perfect bedtime story.
Book Reviewed by Stacey
Purchase Links


Caroline Nastro was born and raised in New York City, where she currently lives. She is an award-winning playwright, screenwriter, and theater director.
The Bear Who Couldn't Sleep is her first picture book.
Vanya Nastanlieva was born and raised in Bulgaria. She currently lives in Cambridge, England. She received her MA in Children's Book Illustration from the Cambridge School of Art in 2011. Her picture book, Mo and Beau, was highly commended in the 2011 Macmillan Prize for Children's Book Illustration, and was published in 2015.