Desert Rose by J. Arlene Culiner – Book Review
Desert Rose by J. Arlene Culiner – Book Review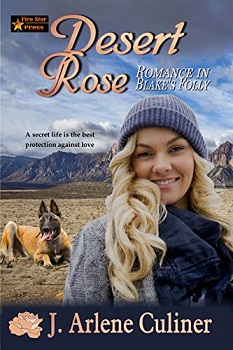 Desert Rose
Romance In Blake's Folly Book One
Author – J. Arlene Culiner
Pages – 174
Released – 4th November 2018
ISBN-13 – 978-1728686417
Format – ebook, paperback
Review by – Ed Sheehan
Rating – 4.5 Stars
I received a free copy of this book.
This post contains affiliate links.
A secret life is the best protection against love… Men love Rose Badger, and if the other inhabitants of dead-end Blake's Folly, Nevada, don't approve, she couldn't care less.
With a disastrous marriage far behind her, settling down is the last thing she intends to do. Isn't life for fun? Doesn't a stable relationship always mean predictability and boredom? Well… perhaps things might be different with Jonah Livingstone, but he is off limits for anything other than friendship. Even though he's started a slow burning fire inside her, he's still entangled in a complicated past relationship. And Rose has another secret life—one that she'll never give up for any man.
The last person geologist Jonah Livingstone expected to meet in a semi-ghost town is Rose Badger. She's easy-going, delightfully spontaneous, and Jonah is certain their attraction is mutual. But Rose is always surrounded by a crowd of admirers and doesn't seem inclined to choose a favorite. Though Jonah has also suffered a failed marriage, he can't help being drawn to Rose—and he dares to hope she may feel the same for him. But is Jonah too independent to settle into a permanent relationship again? He's leading his own very private life, as well…and secrets are an excellent protection against love. Will he do what it takes to hold on to his DESERT ROSE?

J. Arlene Culiner novel Desert Rose starts with Rose Badger in her vintage store named Second Hand Rose. A good looking man, Jonah Livingstone, walks in and they are immediately attracted to each other. But Jonah is there to buy a birthday gift for the woman he lives with in Reno. After finding a gift and exchanging names, he promises to visit the store again and drives back to Reno.
Rose was born in Blake's Folly, a mostly abandoned Nevada old mining town that once thrived, but it now had only about fifty residents, She left for a few years to pursue a singing career, but when that didn't work out, she moved back and set up her vintage store—most of her sales were over the internet. She is the prettiest woman around and is always surrounded by single men, which Professor Livingstone soon witnesses.
So despite their attraction to each other, his situation with Miranda living with him, all of Rose's male admirers, and each of their independent ways all stand in the way of a quick developing romance, but oh what a great romantic novel it is—and without the use of erotica.
When I started reading Desert Rose, I had just finished reading a John Grisham novel that, surprisingly, was riddled with inconsistencies and editing errors. If this novel had any, I somehow missed them. It is beautifully and concisely written with two fascinating lead characters. I was anxious to get back to the novel every time I had to put it down. It lacks any serious threat or a villains working against the protagonists, which normally make novels more interesting. But despite the lack of contention, I still give it a rating of four and one-half stars.
Book Reviewer – Ed Sheehan
---
About the Author

Born in New York, raised in Toronto, J. Arlene Culiner has lived in several cars, one closet, a Hungarian mud house, a Bavarian castle, a Turkish cave dwelling, in a haunted house on the English moors, in the Sahara desert, on a Greek island, in several French villages.
She has worked as a go-go girl, belly dancer, fortune teller, translator, newspaper deliverer, radio broadcaster, contemporary artist, photographer, actress and writer.
She now resides in a 400-year-old former inn/museum in a French village of no real interest. Much to everyone's dismay, she rescues dogs, cats, hedgehogs, and protects all other living creatures — especially spiders and snakes. Her wild (or wildlife) garden is a classified butterfly and bird reserve.
She writes romances as J. Arlene Culiner, mysteries and non-fiction as Jill Culiner.




---
What did you think of the book? Share your thoughts in the comment section below!
---
The above links are affiliate links. I receive a very small percentage from each item you purchase via these link, which is at no extra cost to you. If you are thinking about purchasing the book, please think about using one of the links. All money received goes back into the blog and helps to keep it running. Thank you.