Elevator Pitch by Linwood Barclay – Book Review
Elevator Pitch by Linwood Barclay – Book Review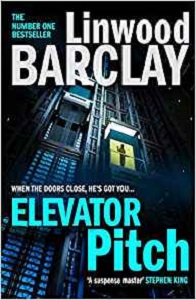 Elevator Pitch
Author – Linwood Barclay
Publisher – HQ
Pages – 400
Released – 5th September 2019
ISBN-13 – 978-0008331993
Format – ebook, hardcover, audio
Review by – Stacey
Rating – 4 Stars
I received a free copy of this book.
This post contains affiliate links.
It all begins on a Monday, when four people board an elevator in a Manhattan office tower. Each presses a button for their floor, but the elevator proceeds, non-stop, to the top. Once there, it stops for a few seconds, and then plummets.
Right to the bottom of the shaft.
It appears to be a horrific, random tragedy. But then, on Tuesday, it happens again, in a different Manhattan skyscraper. And when Wednesday brings yet another high-rise catastrophe, one of the most vertical cities in the world – and the nation's capital of media, finance, and entertainment – is plunged into chaos.
Clearly, this is anything but random. This is a cold, calculated bid to terrorize the city. And it's working. Fearing for their lives, thousands of men and women working in offices across the city refuse leave their homes. Commerce has slowed to a trickle. Emergency calls to the top floors of apartment buildings go unanswered.
Who is behind this? What do these deadly acts of sabotage have to do with the fingerless body found on the High Line? Two seasoned New York detectives and a straight-shooting journalist must race against time to find the answers . . .
Pulsating with tension, Elevator Pitch is a riveting tale of psychological suspense that is all too plausible . . . and will chill readers to the bone.
On Monday morning four people enter an elevator in an office building. They each press the button for their designated floors but the elevator sails passed them right to the top. Once there it sits idle for a few minutes before plummeting to the ground killing three immediately and one a few hours later from her injuries.
On Tuesday an elevator malfunctions in an apartment block and stops dead. Inside is a young boy on his way to school and a Russian scientist. They manage to prise open the doors and the scientist climbs out but upon reaching for her purse the elevator drops, killing her instantly.
On Wednesday an elevator door opens and two people step on, but there is no elevator and they fall, luckily not too far. Injured but alive people come to their rescue, that is until the elevator moves down crushing the pair.
New York is in terror as the residents and workers refuse to use the elevators leaving some people stranded in their high-rise buildings. The Mayor is catapulted into the limelight as people want answers and what does a fingerless man found dead on the Highline have to do with the issue? It's up to detectives Jerry Bourque and Lois Delgado to work quickly and put the pieces together.
If you have a fear of elevators (lifts) then you might want to give this book a miss, for those that don't have a fear of them this might make you think twice before stepping onto one!
Elevator Pitch is an intense thriller that weaves a lot of plotlines together. In the beginning, I was a little confused as the book moved from the initial accident onto a journalist and her dealings with the New York Mayor. We then meet two detectives who are dealing with a crime scene on the Highline where a man has been found brutally murdered and his fingers cut off.
I struggled a little to try to work out how all these characters and scenes would come together but once we find out who the murdered man is and the events that occurred on Tuesday everything starts to come clear and the book began to make sense again. It's at this point the book truly came alive and I raced through it.
Not only do we have elevators malfunctioning there is also a terrorist on the loose blowing up things. Are the two connected?
This is the first book by Linwood Barclay that I have read and from how much enjoyment I had reading it, it won't be my last. Elevator Pitch is chilling and exciting, yes, it begins slowly but keep going as it certainly will take you for a ride. The ending is perfect and I like how it incorporated the prologue too.
Book Reviewer – Stacey
---
Purchase online from:
---
About the Author

Linwood Barclay is an international bestselling crime and thriller author with over twenty critically acclaimed novels to his name, including the phenomenal number one bestseller No Time For Goodbye. Every Linwood Barclay book is a masterclass in characterisation, plot and the killer twist, and with sales of over 7 million copies globally, his books have been sold in more than 39 countries around the world and he can count Stephen King, Shari Lapena and Peter James among his many fans.
Many of his books have been optioned for film and TV, and Linwood wrote the screenplay for the film based on his bestselling novel Never Saw It Coming. He is currently working with eOne to turn the Promise Falls trilogy into a series. Born in the US, his parents moved to Canada just as he was turning four, and he's lived there ever since. He lives in Toronto with his wife, Neetha. They have two grown children.




---
What did you think of the book? Share your thoughts in the comment section below!
---
The above links are affiliate links. I receive a very small percentage from each item you purchase via these link, which is at no extra cost to you. If you are thinking about purchasing the book, please think about using one of the links. All money received goes back into the blog and helps to keep it running. Thank you.
Like us on Facebook – Tweet us on Twitter – Pin us on Pinterest