A Little Bird Told Me by Marianne Holmes – Book Review
A Little Bird Told Me by Marianne Holmes – Book Review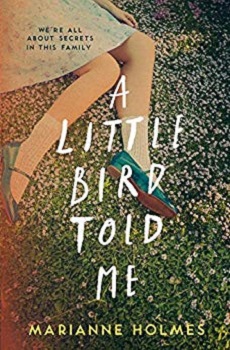 A Little Bird Told Me
Author – Marianne Holmes
Publisher – Agora Books
Pages – 272
Released – 13th September 2018
ISBN-13 – 978-1912194841
Format – ebook, paperback, audio
Reviewer – Julie
Rating – 4 Stars
I received a free copy of this book
Post contains affiliate links.
In the scorching summer of 1976, Robyn spends her days swimming at the Lido and tagging after her brother. It's the perfect holiday – except for the crying women her mum keeps bringing home.
As the heatwave boils on, tensions in the town begin to simmer. Everyone is gossiping about her mum, a strange man is following her around, and worst of all, no one will tell Robyn the truth. But this town isn't good at keeping secrets…
Twelve years later Robyn returns home, to a house that has stood empty for years and a town that hasn't moved on, forced to confront the mystery that haunted her that summer. And atone for the part she played in it.

'A Little Bird Told Me' is the debut novel from British-based author, Marianne Holmes. The story is told in the first person, the present tense and seen exclusively from the perspective of Robyn, the 'Little Bird' of the title. The chapters are interspersed with segment breaks and alternate from the summer of 1976 when Robyn is nine and late-September 1988, when she is 21.
A stranger appears in town and gives nine-year-old Robyn a present. We discover an incident occurs which necessitates their move away from the area. Twelve years later, Robyn and her brother, Kit return to the home they had shared with their mother and her partner, Matthew.
Robyn has able foils in Kit and Neil, their childhood friend, as her emotional journey is played out and she pieces together the jigsaw of events that haunt her. The scene is set for Robyn to discover the truth – but the truth about what?
Marianne Holmes has used many literary devices to tell her tale. There are some powerful atmospheric backdrops with colourful passages rich in symbolism and imagery, as well as some clever misdirection. I confess to always getting confused between personification, anthropomorphism and pathetic fallacy but whichever categories these falls into, I liked the descriptions of the house suffocating her and the ribs and arteries of the town feeling familiar but sloughing off its old skin.
The author has definitely done her homework before stepping back into 1976, with references to the water shortage, Sindy and her horse, cassette players, relevant television programmes, pop bands and recipes. She gives her characters difficult themes with which to grapple, such as domestic violence and bullying and she also gets a strong handle on the attitudes and perceptions of society at the time.
There are many elements about this book that I admire; not least the author's ability to transport herself into the mind-set of a nine-year-old and write from that viewpoint and then subtly change style as Robyn reaches adulthood.
I had a few tiny niggles but my only significant criticism is that I had read over half the book and still I didn't know who Robyn was searching for or why. I needed to be let into her confidence a bit more so that my anticipation didn't turn into annoyance. When the denouement was disclosed, I understood why I had been kept in the dark; it was a neat twist but ultimately, I was left feeling that the plot was a bit thin.
I found it difficult to allocate a star rating for this novel. I'm full of admiration for the author's ability to paint vivid pictures but I found the pace pedestrian for the first two thirds of the book. A dramatic gear change then plunges the reader into the heart of the story and events unfold thick and fast. If you enjoy a story with sensitive attention to detail, then A Little Bird Told Me will really draw you in. Objectively, I award four stars.
Reviewed by Julie
---
About the Author

Marianne Holmes was born in Cyprus to RAF parents but is now firmly based in London.
A love of language led to degrees in Classics from Royal Holloway, University of London and Linguistics from University College London but a desire to pay the bills steered her to a career in marketing. Marianne has now come home to her love of language and writing.
A Little Bird Told Me is her first novel.





---