A Sudden Crush by Camilla Isley – Book Review
A Sudden Crush by Camilla Isley – Book Review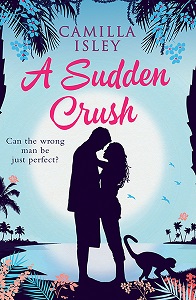 A Sudden Crush
Author – Camilla Isley
Publisher – Pink Bloom Press
Pages – 255
Release Date – 4th February 2016
Format – ebook, paperback, audio
Reviewer – Stacey
I received a free copy of this book
Post Contains Affiliate Links

Joanna Price is a city girl with the perfect life. She loves her job as a book editor, she just married Liam, high profile bestselling author and the man of her dreams, and she's headed to the Caribbean to enjoy two weeks of paradise for her luxurious honeymoon.
Connor Duffield is a gruff, grumpy rancher from the Midwest. He is a country boy who has a no-nonsense approach to life, more scars than he'd like to admit, and he hates city girls.
So it's just a misfortune they have to sit next to each other for a six hour plane ride. Even more so when their flight is caught in the perfect storm and Joanna wakes up stranded on a desert island with Connor, the very man she hoped she would never have to see again.
Why are they alone on this forsaken island? What happened to Joanna's husband?
When her dream honeymoon turns into a hilarious tropical nightmare, Joanna's first thought is survival. However, she and Connor will quickly discover just how boring paradise can be. As the days turn to weeks, and then months, this mismatched pair will have to learn how to coexist and how to resist the sparkles of an attraction they weren't prepared to feel.
When they are finally rescued will Joanna's marriage be saved as well, or will the life she knew and loved be in ruins?

Joanna (Jo, Joan, Anna), has just married the love of her life, Liam, and is off on her honeymoon. There is only one problem. They are not seated together on the plane and the ogre that is sat next to her refuses to change seats with her new husband.
Liam however, looks quite content to be seated next to a gorgeous model, and is not trying so hard to get her to exchange seats with his wife.
When the unthinkable happens en-route, Joanna and Connor, AKA 'The Ogre', are sucked out of the plane and land on a deserted island – not including the animals. Now they must rely on each other and their basic skills, if they are going to stay alive, when everyone else believes them to be dead.
This is the second book by Camilla Isley, and having loved the first one, I was eager to get my teeth in to this new one.
'A Sudden Crush' is a chick-lit-Esq, tongue in cheek, fairy tale of a book. It had me laughing along, and at the characters, especially Joanna and her temper tantrums, and her phobia of spiders.
The story is far-fetched, but that's what I liked the most. It took me away from the real world at a time when I needed an escape, and placed me in this fantasy world, where it felt like the sun was shining down on me, and I could taste the fresh fruit and hear the waves crashing against the rocks.
I loved how the two pig-headed main characters needed to help each other, and learn to get along if they wanted to make it off the island alive, and how Joanna becomes the adopted mother to Manny, much to Connor's dislike.
Joanna is a remarkable young woman. She's fearlessly loyal, and determined. She has a career as an editor which she loves and seemed to have the perfect life until she fell from the plane. The revelations about what her 'husband' Liam had been up to whilst he thought she was dead had me seething. At least she got to see his true colours before they took the next step in their life together.
Connor is rugged and moody, yet gorgeous. He takes an instant dislike to Joanna, but as the days, weeks and months go, on you see his softer side coming through.
The book is wonderfully engaging, light-hearted and fun to read. It made me laugh at a time I didn't think I could laugh, and I had a permanent smile on my face from beginning to end. Thank you Camilla. The book has been like therapy!
Book Reviewed by Stacey
Purchase Links


Camilla is an engineer turned writer after she quit her job to follow her husband in an adventure abroad.
She's a cat lover, coffee addict, and shoe hoarder. Besides writing, she loves reading—duh!—cooking, watching bad TV, and going to the movies—popcorn, please. She's a bit of a foodie, nothing too serious.
A keen traveler, Camilla knows mosquitoes play a role in the ecosystem, and she doesn't want to starve all those frog princes out there, but she could really live without them.
Author Links
www.camillaisley.com
@camillaisley
Facebook
Goodreads
Pinterest
Instagram
Blog posts straight to email via Bloglovin – Like us on Facebook – Follow us on Twitter