The Olive Branch by Jo Thomas – Book Review
The Olive Branch by Jo Thomas – Book Review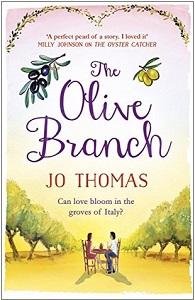 The Olive Branch
Author – Jo Thomas
Publisher – Headline Review
Pages – 400
Release Date – 2nd July 2015
Format – ebook, paperback, audio
Reviewer – Jodie
I received a free copy of this book
Post Contains Affiliate Links

You can buy almost anything online these days. For Ruthie Collins, it was an Italian farmhouse.
Yet as she battles with a territorial goat and torrential rain just to get through the door of her new Italian home, the words of Ed, her ex, are ringing in her ears. She is daft, impetuous and irresponsible.
But Ruthie is determined to turn things around and live the dream.
First, though, she must win over her fiery neighbour, Marco Bellanouvo, and his family… Then there's the small matter of running an olive farm. As the seasons change and new roots are put down, olives and romance might just flourish in the warmth of the Mediterranean sun.

Ruthie Collins has broken up with her boyfriend Ed, sold their London home, and moved in with her mother. One night after a few glasses of Prosecco, Ruthie buys an old Italian farmhouse on eBay. What she actually gets is a lot more; a house and land bigger than she'd imagined, a warring Italian family for neighbours, and a goat named Daphne.
The story is based in the idyllic setting of rural Italy with its rich red earth, beautiful rustic houses, and seas of olive groves. The author either knows Italy or she has done her research extremely well.
The scenery, the language, and the people are all so vibrantly described that they come to life. I could picture each tiny detail, smell the earth, and taste the Bellanuovo olive oil. All of your senses are put to use in this wonderfully descriptive story. If you've never visited rural Italy then you'll most definitely want to add it to your bucket list after reading this.
The house Ruthie buys belonged to her neighbours' grandfather and he hadn't told his family he'd sold it. He never got the chance to as he passed away straight after selling it. It's only when Ruthie comes face to face with Marco Bellanuovo, the previous owner's grandson, that the family realise what has happened – and they're not exactly pleased about it!
Ruthie tries to make the most of her new life abroad but it isn't easy; She inherits the Bellanuovo goat who she renames Daphne, she has a lot of work ahead of her to get the house up to scratch, and she faces an ongoing battle of wills with Marco. There are some lovely scenes between them that had me gasping and cringing in shock (the funeral scene was brilliant, but that's all I'll say) and I found myself smiling and laughing as I read on.
Ruthie's ex-boyfriend Ed crops up a few times and she wonders if she's made the right choice several times in the story. Then there's Ryan; an Australian who takes a shine to Ruthie and makes her feel welcome in Italy. He offers to help her out with the works needed on her new home, and she gratefully accepts.
With three potential love interests for Ruthie, the book keeps you guessing as to what will happen. I did have a fair idea but the story was so well written, I couldn't be certain as to who Ruthie would choose until the end due to the twists along the way.
Some books you read and then pass on to a friend and some you drop off to the charity shop. Not this one. The Olive Branch is for keeps! It was heart-warming, funny, romantic, and I couldn't put it down.
Book Reviewed by Jodie
Purchase Links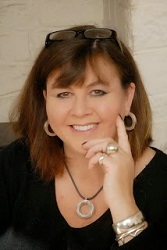 Jo Thomas worked for many years as a reporter and producer, first for BBC Radio 5, before moving on to Radio 4's Woman's Hour and Radio 2's The Steve Wright Show.
In 2013 Jo won the RNA Katie Fforde Bursary. Her début novel, The Oyster Catcher, was a runaway bestseller in ebook and was awarded the 2014 RNA Joan Hessayon Award and the 2014 Festival of Romance Best Ebook Award.
Jo lives in the Vale of Glamorgan with her husband and three children.
Author Links