'Tis the Season to be Single by Laura Ziepe – Book Review
'Tis the Season to be Single by Laura Ziepe – Book Review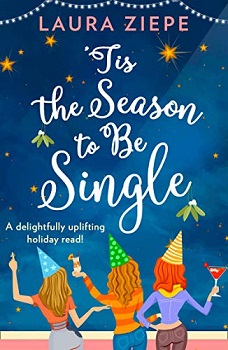 'Tis the Season to be Single
Author – Laura Ziepe
Publisher – HQ
Pages – 247
Released – 3rd October 2018
ISBN-13 – 978-0008321055
Format – ebook, paperback, audio
Reviewer – Stacey
Rating – 4 Stars
I received a free copy of this book
Post contains affiliate links.
All they want for Christmas…
Rachel is in shock. She was sure that her boyfriend was about to propose – not break up with her! Even worse, it turns out he's been cheating on her…
Grace can't bear the thought of spending another Christmas with her lazy, unappreciative husband. Surely it's time to shake things up a bit?
Amber knows she should be happy that her best friend Jack is getting married, but there's a little part of her that can't help think 'it was always meant to be me'!
With Christmas fast approaching, surely there's no better time to be single – yet will the three friends manage to keep their promise and ban all men until the New Year?

Rachel returned home one evening after work to her boyfriend Mark telling her he no longer loves her and that he thinks he should split up. Turning to her best friend for comfort, Rachel gets a shock when she discovers that the reason for him no longer loving her is that he is in love with someone else and the two have been having an affair behind her back for the past two months.
Grace has had enough of feeling like a doormat and cook, maid and bottle washer for her lazy husband Simon. She has had the talk with him before about being unappreciated, this time she has had enough and decides it's time the two split up. However, Simon might have more love in him that Grace ever realised as he's not about to leave their marriage without a fight.
Amber has just returned from her three weeks holiday in Thailand and back to work to discover both Grace and Rachel looking pretty miserable. Not great given the fact they work on a cosmetics stand in a department store. She also finds out her best friend Jack is getting married and can't understand why she feels so terrible about it. Surely the two are only just friends and would never have been anything more?
With Christmas fast approaching the three women decide that being single is the best, especially at this time of year and ban all men until New Year, but can they keep their promise?
'Tis the Season to be Single is a lot of fun. Yes, there are a few down moments, but there is also a lot of humour too. All three women are delightful in their own way and each is so different from the other.
The book moves along at a nice pace and all I can say is so much for staying away from men, if that is them staying away I don't know what the book would have been like if they were full on in the dating mood!!
If you are looking for a festive book with a great plot, well written and with a wonderful cast of characters, then this is the book for you.
Reviewed by Stacey
---
Purchase online from:
---
About the Author

Laura Ziepe was born in 1983 and was writing stories from the early age of eight. Knowing she wanted to be an author, she studied Professional and Creative writing at St Mary's University and graduated in 2006.
Laura currently lives in Essex with her husband, children and dogs.


---