The Psychic by Lovelyn Bettison – Book Review
The Psychic by Lovelyn Bettison – Book Review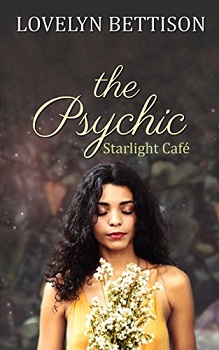 The Psychic
A Starlight Café Novel
Author – Lovelyn Bettison
Pages – 175
Released – 25th June 2018
Format – ebook
Reviewer – Nia
Rating – 5 Stars
I received a free copy of this book
Post contains affiliate links.
A reluctant psychic.
A family secret.
A ghost who demands to be heard.
Cheryl reads tarot cards at the Starlight Cafe. When a regular customer asks her to help him get rid of the ghosts terrorizing his home, she takes the job.
Pulled into a web of family secrets and revenge, Cheryl must find out the truth to put the spirits to rest. Little does she know that helping them will complicate her own life in ways she could never imagine.
Follow Cheryl down a winding road of hauntings and paranormal events that change the course of her life.

This is a brilliant novella and a great paranormal pick-me-up to get you in the mood for Halloween – very much like Ghost Whisperer if you've ever seen the series.
This is a great exercise in story-telling, fitting in two different plots within 175 pages and pacing everything just right. It's a satisfying and fun read, even if the romance aspect is a bit lazy – I was 100% in it for the paranormal aspect and would have been satisfied without any romance at all.
Cheryl is a likable main character with a past she's trying to overcome, she's struggling to make ends meet with her tarot card readings so she's quick to take on a job helping a local man with a haunting problem and expand her repertoire of supernatural skills. I love the hauntings in this book and how they're resolved, there are some spine chilling moments in there while we figure out what type of ghosts the main character is dealing with so we feel her fear as she explores this side of the paranormal.
It's difficult to review this title as the synopsis is very cagey about the specifics and I don't want to give anything away, but if you like investigative ghost stories – you'll enjoy this.
Sign me up for the rest of the series if it features these main characters, I'm dying (pun intended!) to find out what happens next.
Reviewed by Nia
---
Purchase online from:
---
About the Author

Lovelyn Bettison writes speculative fiction with a multicultural cast.
In her stories, the normal world is slightly askew, magic happens every day, and ordinary people end up in extraordinary situations. Her novels explore the themes of loss, regret, and striving to be better. There's almost always a love story. There is definitely magic, and she likes all her ending to be the happy kind.
If you want to explore a world that is different than your own and full of quirky characters and unusual occurrences check out her books.





---