The Gin O'Clock Club by Rosie Blake – Book Review
The Gin O'Clock Club by Rosie Blake – Book Review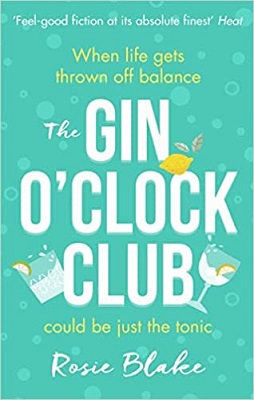 The Gin O'Clock Club
Author – Rosie Blake
Publisher – Sphere
Pages – 400
Released – 1st June 2020
ISBN-13 – 978-0751575903
Format – ebook, paperback, audio
Review by – Stacey
Rating – 4.5 Stars
I received a free copy of this book.
This post contains affiliate links.


Bring the sparkle and fizz back into your life with the help of The Gin O'Clock Club.
Lottie is always in a hurry, rushing through her days ticking tasks off her to-do lists. Teddy is worried about his granddaughter – and he knows that his late wife, Lily, would have known exactly what to say to make things better. Now that Lily has gone, it's up to Teddy to talk some sense into Lottie.
With the help of Arjun, Geoffrey and Howard, the elderly reprobates who make up his Gin O'Clock Club, Teddy makes a plan to help Lottie find her way back to the things that really matter – family, friendship and love. But as Lottie balances a high-powered job with her reluctant attendance at whist drives, ballroom dances and bingo, Teddy wonders if she's really ready to open up her heart to the possibility of true happiness…

Barrister Lottie is always in a hurry. She never seems to have time for her boyfriend Luke, it is all work, work, work. Her idea of a romantic night out is a quick drink in the local pub.
When her Grandmother dies, Lottie is heart-broken and is tries to split herself into three pieces so that she can be there for her grandad Teddy as well as at work and with Luke.
Teddy sees how stressed Lottie is and how much strain she is placing on her relationship. Together with his Gin O'Clock Club members, Arjun, Geoffrey, and Howard, they come up with a plan to help her. In exchange for Teddy signing up to a dating agency, now that he is on his own, Lottie and Luke are to go on old fashioned dates set up by them, but will their meddling work or will it be too much for Lottie?
The Gin O'Clock Club is nothing like I imagined it would be from the title (before I read the synopsis). I was expecting young women with their fancy Gin's meeting up once a week/month etc. Oh no, this is a group of ageing pensioners who have been friends a long time who get together, their drink of choice being Gin.
The pensioners were certainly living life to the full and had some amazing and different dates for Lottie and Luke, such as life drawing, in which one of the pensioners is the naked model which wasn't good for the imagination!
I can't say that I took to Lottie at the beginning, there was just something that felt off about her and I took an instant dislike to her, however, as the story progressed she seem to change and become more carefree than uptight and I began to warm to her. Luke is the dish of the book. He is sexy, charming, well-mannered, and is madly in love with Lottie and would do anything for her.
It was nice to read a book with a mix of old and young characters in, as well as written letters from Teddy to his late wife Cora which just might bring a tear to your eyes. I also loved the little messages at the start of each chapter from an older, wiser, person on what love is.
This is a beautiful read that I rushed through as I didn't want to put it down. I enjoyed every minute of it and it goes to show that sometimes fun can come from the strangest of situations and that the key to romance in the modern world might be to look at the past and to give each other your time.
Book Reviewer – Stacey
---
Purchase online from:
---
About the Author

Rosie is a writer, vlogger and amateur Mum. She loves to chat and write about love, sex, dating and relationships. She has written features for Cosmopolitan, The Lady, The Sunday People, Reveal and Best Magazine. She has appeared on ITV, Sky and Channel 4.
Her first romantic comedy HOW TO GET A (LOVE) LIFE was published in 2014. Atlantic Books published HOW TO STUFF UP CHRISTMAS in 2015 and HOW TO FIND YOUR (FIRST) HUSBAND in 2016. Her book THE HYGGE HOLIDAY was released in September 2017 with Sphere, an imprint of Little Brown. Her latest book, The Gin O'Clock Club, is released in June 2020.
Rosie wishes to continue writing romantic comedies, persuade Julia Roberts to be her best friend and discover the world's greatest Black Forest Gateaux recipe.



---
What did you think of The Gin O'Clock Club? Share your thoughts in the comment section below!
---
The above links are affiliate links. I receive a very small percentage from each item you purchase via these link, which is at no extra cost to you. If you are thinking about purchasing the book, please think about using one of the links. All money received goes back into the blog and helps to keep it running. Thank you.
Like us on Facebook – Tweet us on Twitter – Pin us on Pinterest