Hologram Deception by Ed Sheehan – Book Review
Hologram Deception by Ed Sheehan – Book Review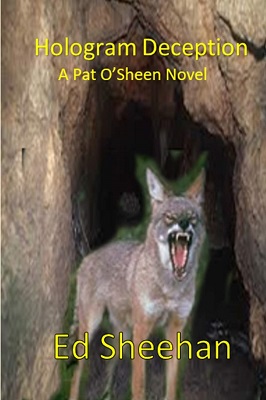 Hologram Deception
Hologram Trilogy Book Two
Author – Ed Sheehan
Publisher – Bowker
Pages – 357
Released – 5th February 2019
ISBN-13 – 978-0988859630
Format – ebook, paperback
Review by – Marcia
Rating – 3.5 Stars
I received a free copy of this book.
This post contains affiliate links.


The Hologram Deception is a stand-alone novel, but is the second of the hologram trilogy following Hologram Conspiracy. Several sequels and prequels not all related to the holograms (already written) will follow.
Pat O'Sheen is a religious man whose devotion to his wife and high-school sweetheart, Dale, and their three kids is a top priority with God and Country. He is retired army special forces with unique talents and a passion to protect American soldiers. In Zurich, Switzerland, Pat awakes from being drugged, escapes from a motel where he is being held captive, and soon realizes that he doesn't know who he is or where he is.
A beautiful and mysterious lady finds him, tells him his name, and helps him get back to his family in Alabama. Pat's abductors find him, and he is forced to leave home to protect his family. As Pat's memory recovers, he learns that there has been a baffling increase in the killing of American Soldiers in Afghanistan, and he thinks he knows why. Several months ago, Pat and his son had destroyed a shipment of stolen top-secret hologram weapons at the Afghan border.
Pat realizes that he was drugged for months to prevent him from stopping another shipment, and he embarks on a perilous quest to find the people behind his abduction and who are probably manufacturing the rogue top-secret weapons.

Hologram Deception is the second book in a three-book series, the first book being Hologram Conspiracy which I reviewed back in August 2019. You do not however need to have read the first book to read this one as it works as a standalone too.
The story begins with our protagonist Pat O'Sheen waking up in a room he doesn't recognise. He doesn't remember how he got there or anything of his past. He doesn't even recognise himself in the mirror. He is concerned though when he opens the room door and sees an armed man outside who looks like he is guarding the room. He realises he must get escape.
Once out of the room he meets a couple and he explains he is lost. The pair tell him that he is in Zurich. He is unsure how he got to Switzerland, the last memory he has he is in the USA. All he knows is that he needs to return and try to regain his memory, his life and others could depend on it.
The events in book one were weaved nicely into this storyline throughout without going over too much ground. Just like the first book this one is full of action, mystery, and moves along at a fast pace.
I love that Pat is such a family man and that even with his lifestyle his wife and children always come first and are always at the forefront of his thoughts. He is like an action man, only this time one without a memory, although that slowly comes back which was good to witness. I also love Pat and Dale's relationship.
I do prefer book one, but, that doesn't mean I didn't enjoy this one, I really did as I like a book that excites me. If you like full-on books that have you holding your breath at times and rooting for the hero then this is well worth a read.
Book Reviewer – Marcia
---
Purchase online from:
---
About the Author

Ed has a background in technical research writing and have been published by the International Society of Explosives Engineers. The historical and technical aspects of my novels is thoroughly researched. Hologram Conspiracy is the first of a trilogy and Hologram Deception is the second.
Hologram Destruction are in edit and cover design. He is married to his high school sweetheart, and they have three kids and three grand-kids. They now live in Alabama near their grand-kids.

---
What did you think of Hologram Deception? Share your thoughts in the comment section below!
---
The above links are affiliate links. I receive a very small percentage from each item you purchase via these link, which is at no extra cost to you. If you are thinking about purchasing the book, please think about using one of the links. All money received goes back into the blog and helps to keep it running. Thank you.
Like us on Facebook – Tweet us on Twitter – Pin us on Pinterest