The Flower Arranger by JJ Ellis – Book Review
The Flower Arranger by JJ Ellis – Book Review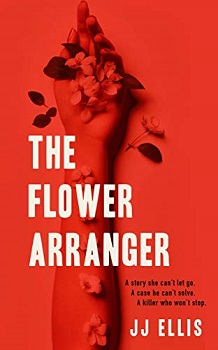 The Flower Arranger
Author – JJ Ellis
Publisher – Agora Books
Pages – 344
Released – 26th September 2019
ISBN-13 – 978-1911295815
Format – ebook, paperback, audio
Review by – Stacey
Rating – 4 Stars
I received a free copy of this book.
This post contains affiliate links.
And now he knew what was wrong with the arrangement. It was the Ma… the negative space… There was only one thing beautiful enough to fill it and — finally — she was with him. Ready, if not willing, to play her role.
Holly Blain wants to cover real news. The entertainment beat — pop stars and teen trends — was not why she moved to Tokyo. When she meets Inspector Tetsu Tanaka, head of Tokyo's Metropolitan Police's Gaikoku-jin unit, it might just be her big break.
Tanaka isn't so sure. Always one to do things by the book, he's hesitant about bringing this headstrong reporter into his carefully controlled investigation.
But young women keep disappearing and Tanaka is given no choice. He and Blain must trust each other if they are to stop a tormented killer from bringing his twisted plan to its shocking conclusion.

British Holly Blain is working as a reporter in Japan covering the showbiz section for a local newspaper. She hates her job and has always had aspirations to become a journalist covering crime stories. Her big break comes when she meets Inspector Tetsu Tanaka who wants her help.
Young foreign women have been going missing and the police are at a loss as to what is happening to them, that is until one of the women turn up dead, arranged as the centrepiece for a flower arrangement.
The journalist and the inspector need to work together if they are to catch the killer and to prevent any more women going missing.
The Flower Arranger is a crime thriller book set in Tokyo, Japan. There is a twisted killer on the loose and Inspector Tetsu Tanaka needs the help of journalist Holly Blain to catch him. The two must learn to trust one another and work together if they have any chance of getting the murderer off the street. Unfortunately, the killer is very meticulous and clever and is not going to be easy to find or stop.
The book is told in the third person and we do get to read short chapters from the killers perspective but they never give much away so you are as blind as Holly and the inspector as to who he is and why he kills.
The pair work well together and their characters bounced off one another which made their parts enjoyable to read about. The Japanese culture was lacking a little as there wasn't much written about it except for the odd word or phrase thrown in, so this I would have liked to of seen a little more of.
The ending was perfect although I was left a little confused a few pages back when another character was brought in who had played no part in the rest of the book, I presume this being a trilogy we will get to hear more about them in the later books.
Overall the plot drags you in has you turning the pages at speed wanting to keep up with the investigation and the thrill of the chase, and this book was all about the chase. The mind of the killer felt calculated and a little unhinged and I wanted to know what made him kill.
This is one of those books where you think I'll read just a couple of chapters and then an hour later you realise that you are still reading having been sucked into the story and held captive. It is a very imaginative book and I enjoyed it immensely.
Book Reviewer – Stacey
---
About the Author

JJ Ellis was born and raised in Yorkshire in northern England although now lives near London. The author's interest in Japan was sparked when a family member won a trip there by singing in
Japanese at an exhibition in the UK. Several visits followed — to Tokyo and further flung places such as Ishigaki and Iriomote — as Ellis developed the idea for The Flower Arranger. Two more crime novels featuring the team of Tanaka and Blain are planned.
The Flower Arranger is JJ Ellis' first novel.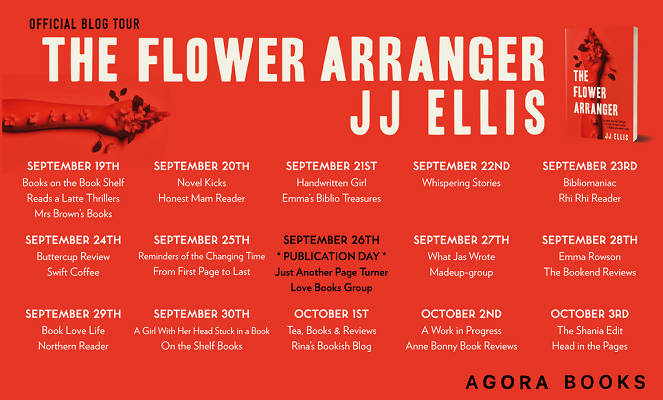 ---
What did you think of the book? Share your thoughts in the comment section below!
---
The above links are affiliate links. I receive a very small percentage from each item you purchase via these link, which is at no extra cost to you. If you are thinking about purchasing the book, please think about using one of the links. All money received goes back into the blog and helps to keep it running. Thank you.