Christmas Every Day by Beth Moran – Book Review
Christmas Every Day by Beth Moran – Book Review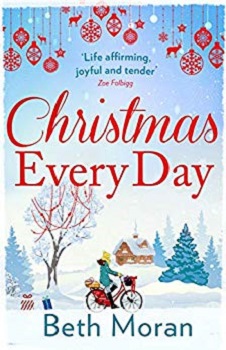 Christmas Every Day
Author – Beth Moran
Publisher – Boldwood Books
Pages – 408
Released – 17th September 2019
ISBN-13 – 978-1838893187
Format – ebook, paperback, audio
Review by – Stacey
Rating – 4.5 Stars
I received a free copy of this book.
This post contains affiliate links.
When Jenny inherits her estranged grandmother's cottage in Sherwood Forest, she has nothing to lose – no money, no job, no friends, no family to speak of, and zero self-respect. Things can only get better…
Her grumpy, but decidedly handsome new neighbour, Mack, has a habit of bestowing unsolicited good deeds on her. And when Jenny is welcomed into a rather unusual book club, life seems to finally be getting more interesting.
Instead of reading, the members pledge to complete individual challenges before Christmas: from finding new love, learning to bake, to completing a daredevil bucket list. Jenny can't resist joining in, and soon a year of friendship and laughter, tears and regrets unfolds in the most unexpected ways.

At the office Christmas party, Jenny is a bag of nerves. Her boyfriend and one of the partners of the law firm she works at is looking like he's about to propose to her. Unfortunately, things don't go quite as expected and Jenny ends up leaving the party and the company for good and moving to her Grandmothers old cottage in Sherwood Forest that has been empty for many years since she died.
The cottage is semi-detached and the bloke, Mack, who lives alone next door doesn't seem happy to see her. He looks grumpy, moody and put out and he's enjoyed having the house next door stood empty as he values his privacy. After the revelations with her ex-boyfriend, Jenny is off men and them trying to help her out. Mack might be moody but he is also not about to let someone struggle to do things he can do easily, this only gets Jenny's back up.
Jenny is also struggling for money, the place needs lots of work and she has no job or savings. To help her out the local bakery owner gives her a few hours work a week and pays her in food, she also unwittingly becomes the nanny for one of the local mums too.
As well as all of the above there is also the unusual book club where they agree to read a book but never talk about it. They meet once a month and each decides something they are going to do before Christmas, they discuss how well their task is going at every meeting. This collection of friendly, kind and full of hope members all have their own stories to tell, plus their hopes and dreams to share too.
This is the third book by Beth Moran I have read and if you are a fan or Rom-Coms I suggest you get reading her books. I simply adored this book and all the fabulous characters. Jenny was pig-headed, stubborn, yet supportive and kind too. She saw the best in people and so is at a loss when it looks like someone wants her out of the cottage. She is also clumsy as hell and Mack often had to rescue her from the floor.
The plot is beautiful and the setting comes across strong, imagine living in Sherwood Forest, out in the wild, being at one with nature. Although being isolated isn't much fun when you think someone is following you.
The only thing I will say is don't expect this to be a 'Christmas book' as it isn't. I do understand why it has been called Christmas Every Day but it is more of a reference in the story that actual events in the book.
This is a humorous book that has some of the most delightful characters I have ever met. It is warm, inviting and a whole lot of fun from beginning to end.
Book Reviewer – Stacey
---
Purchase online from:
---
About the Author

Beth Moran initially worked as a biochemist and then taught antenatal classes before becoming an author. She loves to write contemporary women`s fiction set in and around Sherwood Forest, where she lives with her family



---
What did you think of the book? Share your thoughts in the comment section below!
---
The above links are affiliate links. I receive a very small percentage from each item you purchase via these link, which is at no extra cost to you. If you are thinking about purchasing the book, please think about using one of the links. All money received goes back into the blog and helps to keep it running. Thank you.