Secrets at the Last House Before the Sea by Liz Eeles – Book Review
Secrets at the Last House Before the Sea by Liz Eeles – Book Review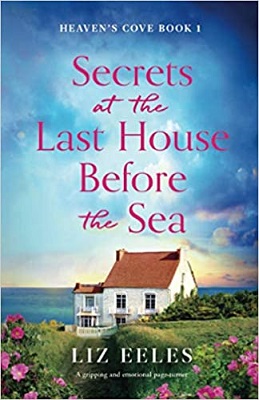 Secrets at the Last House Before the Sea
Author – Liz Eeles
Publisher – Bookouture
Pages – 328
Released – 15th February 2021
ISBN-13 – 978-1838887438
Format – ebook, paperback
Rating – 5 Stars
I received a free copy of this book.
This post contains affiliate links.


Synopsis
From the attic of Driftwood House there are stunning views of the deep green sea and sapphire sky. But Rosie can't tear her eyes away from the faded photograph in her hands, and the words written on the back that will change everything…
Back in the tiny seaside village of Heaven's Cove after the death of her mother, all Rosie Merchant wants is to hide her tears, rent out her childhood home, and get back to her 'real' life, away from the gossiping villagers and wild Devon weather she escaped from years ago.
She's surprised to find a smiling man in hiking boots – local farmer Liam – waiting on the stone doorstep. His kind offer to help clear crumbling, isolated Driftwood House is hard to refuse, and despite Rosie's determination not to let anyone get close, soon they're walking and laughing together along the clifftops. As clouds scud across the endless sky and green waves crash against the shore, Rosie is reminded that nowhere is more beautiful than home.
Then, up in the attic of Driftwood House, Rosie stumbles across a photo which exposes the heart-stopping truth about how her mother came to live at Driftwood House years ago… and Liam only seems concerned about the implications for his own nearby farm. Did he know this painful secret all along, and should she run from Heaven's Cove for good? Or will facing up to her devastating family history mean Rosie can finally put down roots in this beautiful place?
In Secrets at the Last House Before the Sea, we meet Rosie who has returned from her home abroad to the seaside village of Heaven's Cove in Devon after the sudden death of her mum. Whilst her homecoming hasn't been pleasant it just got a little worse when it turns out her mother didn't own the home she has lived in for most of her life and the owner wants the house back to knock it down and build a hotel on the land.
Rosie takes a punt on trying to get them to change their mind by convincing them that the house would be perfect for a guest house instead. She is a little shocked and relieved when they give her four weeks to do the house up and convince them it will work. However, Rosie needs some help, welcome local farmer Liam who agrees to help but renovating an old house comes at a cost, especially when Rosie discovers secrets that have been long buried of her mothers.
I adore Liz Eeles books so when I heard she had a new book releasing I jumped at the chance to grab an early copy and dove straight in. What I find makes her books stand out is that they always contain amazing characters that feel realistic, gorgeous settings that you can visualise perfectly, and plots that are effortless to read.
I was mesmerised by the drama and rushed through the book, wanting to know would Rosie be able to transform the house into a workable guest house, what implications did the secrets hold, and would there be some chemistry between Rosie and Liam who have known each other since they were kids but never particularly liked one another?
This is a story that keeps you guessing whilst has you relaxing in what sounds like a beautiful part of the world, especially Rosie's old home, Driftwood House, which gave views of the land and sea and made me want to stay there as it sounded so idyllic.
Another fabulous book from Liz Eeles which is pure escapism, heart-warming, and left me with a smile on my face. I can't wait to return to Heaven's Cove in the future.
Purchase Online From:
---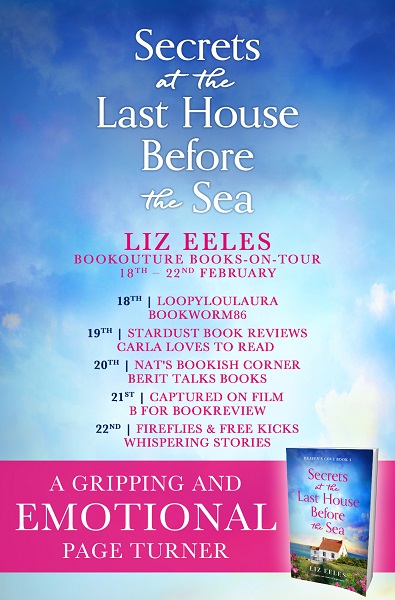 ---
What did you think of 'Secrets at the Last House Before the Sea'? Share your thoughts in the comment section below!
---
The above links are affiliate links. I receive a very small percentage from each item you purchase via these link, which is at no extra cost to you. If you are thinking about purchasing the book, please think about using one of the links. All money received goes back into the blog and helps to keep it running. Thank you.
Like us on Facebook – Tweet us on Twitter – Pin us on Pinterest