A Spy is Born by Ed Sheehan – Book Review
A Spy is Born by Ed Sheehan – Book Review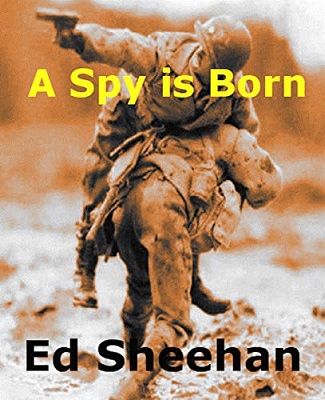 A Spy is Born
A Pat O'Sheen Novel
Author – Ed Sheehan
Publisher – Bowker
Pages – 335
Released – 13th October 2020
ISBN-13 – 978-0988859692
Format – ebook, paperback
Rating – 3 Stars
I received a free copy of this book.
This post contains affiliate links.


Synopsis
Newlyweds, Eddie and Dale O'Sheen, are planning the perfect life when Eddie is drafted from college into the military. During basic training, the army realizes that O'Sheen has special talents that with intense training could turn him into a fierce warrior, so they send him to Special Forces training. But after nine months of rigorous training, when he goes to war, Eddie feels pangs of guilt each time he kills enemy combatants.
After a fierce battle, Eddie is in a deep funk when his war buddies start calling him Pat on his Saint Patrick's Day birthday. O'Sheen uses the name Pat to create an alter ego who learns to kill without much guilt. A CIA agent hears of Pat's multilingual skills and his sniper talents, and he recruits O'Sheen for perilous missions to rescue POWs behind enemy lines.
Dale fears that she is losing her sweet husband to his alter ego, Pat. When she fell in love with Eddie in high school, he was considering becoming a priest. Now she has to fight to keep Pat from taking over her gentle Eddie's personality. Could they ever return to the perfect life she had planned with Eddie? Or would Pat force gentle Eddie to become a spy? Who would she end up living with, Eddie or Pat?
The role of an American sniper during the Vietnam War has long been known to have been extremely dangerous with a very high mortality rate. In A Spy is Born Ed Sheehan brings us an action war story with messages about the war itself and the impact that it had on its combatants and their families.
The various operations are exciting and detailed. As a soldier, Pat Sheen is an out and out superhero, repeatedly achieving the impossible. The reader's credibility is stretched at times but who doesn't enjoy a bit of excitement, provided the good guys win and the bad guys lose. Not surprisingly the body count during these operations is heavy.
With the benefit of hindsight Sheehan, questions the US involvement in the war and the tactics used in what was really a proxy war between the USA, China and Russia. The real victims were the Vietnamese and the youth of the USA. Despite the best intentions of the US forces at the time I was sad to learn of the hatred that the South Vietnamese had after the US withdrawal.
It is likely that some readers will struggle with Ed Sheehan's writing style which, like his characters, tends to be very formal and over-detailed. Did men really hug that much in the 60s and 70s? Pat's regular but tolerated insubordination towards senior officers provided a pleasant break from the sugary perfection of Eddie and Dale. Some of the language, especially the dialogue, is stiff and even John Wayne would have balked at delivering the speech given by the North Vietnamese office at the base of the tree.
I appreciated the way the author tackled the mental impact of war through the Eddie/Pat story and through Cap's sad story. There were some good moments of friendship between Pat and Mike but even that struggled under pressure.
The book is well packaged, the cover has an impact and it was generally well edited. In summary, my experience of A Spy is Born was rather mixed. I enjoyed the action, I appreciated the background and the handling of stress but at times I found the text lengthy and too sweet. I have therefore given a moderate star rating of 3.
Purchase Online From:
---
What did you think of 'A Spy is Born'? Share your thoughts in the comment section below!
---
The above links are affiliate links. I receive a very small percentage from each item you purchase via these link, which is at no extra cost to you. If you are thinking about purchasing the book, please think about using one of the links. All money received goes back into the blog and helps to keep it running. Thank you.
Like us on Facebook – Tweet us on Twitter – Pin us on Pinterest