Allegation by R. G. Adams – Book Review
Allegation by R. G. Adams – Book Review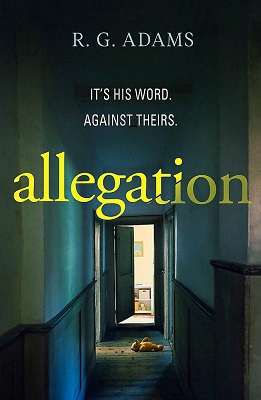 Allegation
Author – R. G. Adams
Publisher – riverrun
Pages – 320
Released – 18th February 2021
ISBN-13 – 978-1529404661
Format – ebook, hardcover, audio
Rating – 4 Stars
I received a free copy of this book.
This post contains affiliate links.


Synopsis
An evil monster exposed?
Or an innocent father condemned?
A scandal will shake a small community to its very foundations.
Sandbeach, South Wales.
Two women have come forward to make historical sexual allegations against a pillar of the local community, Matthew Cooper.
The case lands on the desk of inexperienced Social Worker, Kit Goddard, who must remove Cooper from his home and family while the investigation is carried out. Although intrepid and intuitive, she is ill-prepared for such a high-profile case.
Kit finds herself navigating a local minefield of connections and class, reputations and rumour. Unsure whether her interference is a heroic intervention or a hurtful intrusion, she knows one thing: it will have an impact. The question is whether this impact will be to expose a lie, or destroy an innocent life…
Newly qualified social worker Kit is thrown in at the deep end when she is given the case of an alleged historic child sexual assault by a well-liked local businessman who has powerful friends, and a father with high-up connections.
Kit feels out of her depth and nauseous at dealing with the family, but she knows it doesn't matter how powerful he is, or how much money he has, she is there to do her job and that is to see to the safety of his children and complete an assessment.
With the police dealing with the criminal investigation, Kit is left trying to sort through the lives of the family. Is Matthew Cooper really guilty or is she there delving into an innocent family's life that she could very easily destroy?
The first thing you notice about the book is how much the author knows the world she has created, unsurprisingly she is a former social worker. Her knowledge radiates from the pages and helps to make the plot feel plausible and realistic.
Kit is a fabulous character. She is driven by wanting to help children, especially as she was once a child known to social services, had a brutal upbringing with her mother, and then was brought up by a foster family. She doesn't come across as your average social worker, with her informal clothes and piercing. Something which doesn't bode well with the Cooper family, who seem to think that her look means she is no good at her job.
The storyline is very character-driven and whilst I thought that Matthew Cooper was a bit of a prat, I found it hard to be convinced 100% of his guilt or innocence, the author certainly holds the cards close to her chest and it wasn't until near the end that all the pieces of the puzzle come together.
Whilst I was totally addicted to the ongoing case, the drip-fed information about Kit's childhood and upbringing and her sibling's lives didn't quite grab me as much. However, the book was certainly different from anything I've read before and it was a nice start to a new series.
Purchase Online From:
---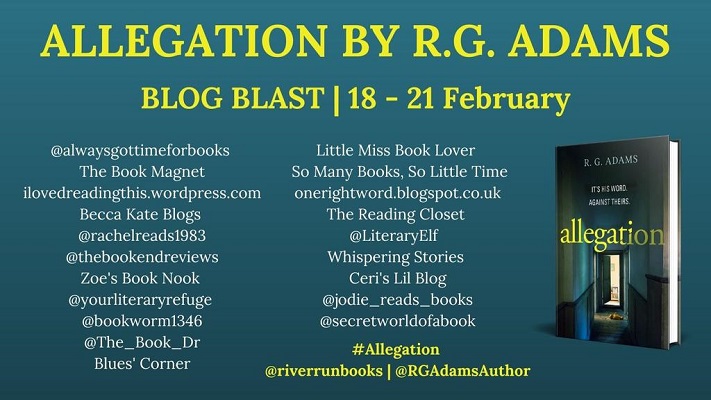 ---
What did you think of 'Allegation'? Share your thoughts in the comment section below!
---
The above links are affiliate links. I receive a very small percentage from each item you purchase via these link, which is at no extra cost to you. If you are thinking about purchasing the book, please think about using one of the links. All money received goes back into the blog and helps to keep it running. Thank you.
Like us on Facebook – Tweet us on Twitter – Pin us on Pinterest