Bianca by Meg Dendler – Book Review
Bianca by Meg Dendler – Book Review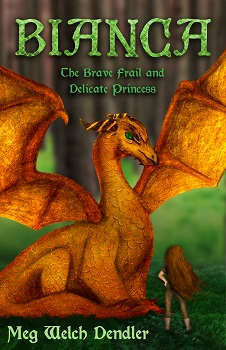 Bianca
The Brave Frail and Delicate Princess
Author – Meg Dendler
Publisher – Serenity Mountain Pub
Pages – 216
Released – 16th November 2017
ISBN-13 – 978-0692920411
Format – ebook, paperback, hardcover
Reviewer – Stacey
I received a free copy of this book
Post contains affiliate links
Princess Bianca had never set foot outside the castle walls. Not once in her over-protected, pink, fluffy life. But when a dragon was spotted in the land and fear spread that the monster had conquered the king and his brave knights, Bianca realized that it was her duty to protect her kingdom.
She will have to prove that she can be braver and stronger than anyone believed because the threat outside the protection of her castle tower was more dangerous and magical than she ever imagined possible, except in a fairy tale.
Review
Princess Bianca had lived all her royal life within the Kingdom of Pacifico. Her mother, Queen Ariana the Kind, had not survived giving birth to Bianca, and she was very poorly at birth too. Her father, King Dominic, couldn't lose his daughter as well as his wife, so he had nurse look after her, but once she was better, they still stayed. Now thirteen years later her father still felt she was too frail and fragile to leave the castle.
Bianca had a tutor to school her. She was never allowed to play or meet with other children, in case they carried diseases, and she had never been outside of the castle walls. She felt like a prisoner, whilst her father thought he was protecting her from harm.
One day whilst eavesdropping on her fathers council meeting, she learnt that the kingdom was in danger. A fire-breathing dragon had been spotted nearby and he was going to fight it. King Dominic gathered his bravest knights and set off in search of the dragon to slay it and protect the people of Pacifico. Three weeks after her father had ridden off to slay the dragon he still hadn't come home. There was only one thing for it.
Princess Bianca would show everyone that she wasn't weak and frail, she was going to let them see just how brave she was by going to find the dragon, and her father, alone.
Bianca is a very sweet children's story. She is a lovely little girl, fed up of being wrapped in cotton wool and treated like she might fall apart at a moments notice.
The villagers loved her, but she only ever saw them from her window and she wished there was more to her life, she wasn't living, she was existing.
I love how the book naturally flows and hooks you into the plot. The story is engaging and makes you want to keep reading, eager to find out just what will happen next. It felt like I was reading a fairy-tale.
Children of all ages will enjoy meeting Princess Bianca, from little children who can listen in awe, to older children who can read it for themselves. A very delightful book that I can see being a big hit with the kids.
Reviewed by Stacey

---
About the Author

Meg Dendler has considered herself a writer since she won a picture book contest in 5th grade and entertained her classmates with ongoing sequels for the rest of the year.
Beginning serious work as a freelancer in the '90s while teaching elementary and middle school, Meg has over one hundred articles in print, including interviews with Kirk Douglas, Sylvester Stallone, and Dwayne "The Rock" Johnson. She has won contests with her short stories and poetry, along with multiple international awards for her best-selling "Cats in the Mirror" alien rescue cat children's book series.
Meg is an editor with Pen-L Publishing and also does editing work for independent and self-publishing authors.







---