Where I Found You by Emma Robinson – Book Review
Where I Found You by Emma Robinson – Book Review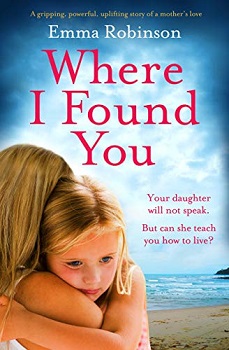 Where I Found You
Author – Emma Robinson
Publisher – Bookouture
Pages – 280
Released – 16th August 2019
ISBN-13 – 978-1838880187
Format – ebook, paperback
Reviewer – Stacey
Rating – 4 Stars
I received a free copy of this book.
This post contains affiliate links.
Your daughter does not speak… But can she teach you how to live?
Ever since Ruby was tiny, she has been unique. Her smiles are magically rare, her building blocks are always colour-coded, and she communicates only in gestures. Sometimes, being Ruby's mother is hard, but the way she sees the world makes it new for Sara every day.
When Sara's husband walks out on them, Sara's world falls apart, and her mother-in-law, Barbara, is the only person she can turn to for help. But Barbara thinks Ruby's problems are all in Sara's head; that she just doesn't know how to raise a child right.
Sara can't see how she'll cope alone. Barbara won't listen. Can a girl who doesn't speak show them the way?

Ruby has been quite a handful ever since she was a tiny baby, never content, crying often. Sara loves Ruby, now three, so much yet there are tell-tale signs that something might not be quite right with her daughter and that she might need a professional opinion.
Things become worse for the family when they move in with Barbara, Sara's husband Mike's mother, whilst they save up to buy their own home. Barbara is of the generation where children who had difficulties were seen as just plain rude or naughty. She is also quite posh and likes to keep up appearances to her neighbours and friends and Ruby not communicating and not doing as Barbara wants her to don't go down well with her.
Mike is useless, more concerned with trying to make a career as an actor and sponging off his mother than being a loving husband or father. They are too much effort for him and he will try any trick in the book not to have to spend time with Ruby.
Once Sara gets Ruby into pre-school and she starts a part-time job she notices Ruby's difficulties more and knows that she must help her daughter the best she can and in trying to do so she realises a lot about herself too.
Where I Found You really touched a nerve with me as I am the mother of an Autistic sixteen-year-old. From him being little I could see something wasn't right but I not only had to fight to get a diagnosis but also relatives too who either didn't want to believe or wore blinkers. Being the mother of an Autistic child hardens you to the world as you see how cruel people can be and not only the Joe Bloggs on the street but those who are suppose to be there to help. It can also be the most worthy job when your child reaches milestones or does something you never expect them too.
People believed that Sara was mollycoddling her daughter, making her that way, doing things for her so that she doesn't get a chance to do them herself, including her husband and mother-in-law. A mother's instinct is very powerful and I'm glad Sara stuck to what she believed.
This is an emotional book that will resonate with any parent who has a child with a mental health issue. It is touching and truthful too. It will pull at your heart-strings and will open your eyes. A beautiful book that I flew through and didn't want to put down.
Book Reviewer – Stacey
---
Purchase online from:
---
About the Author

Emma Robinson is the author of three novels about motherhood and female friendship including The Undercover Mother.
Her fourth novel – Where I Found You – was released on the 16th August 2019.
When she is not writing, Emma is an English teacher and lives in Essex with a patient husband and two children who are an endless source of material.





---
What did you think of the book? Share your thoughts in the comment section below!
---
The above links are affiliate links. I receive a very small percentage from each item you purchase via these link, which is at no extra cost to you. If you are thinking about purchasing the book, please think about using one of the links. All money received goes back into the blog and helps to keep it running. Thank you.