Connectedness by Sandra Danby – Book Review
Connectedness by Sandra Danby – Book Review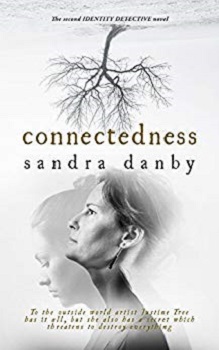 Connectedness
Identity Detective Book Two
Author – Sandra Danby
Publisher – Beulah Press
Pages – 366
Released – 10th May 2018
ISBN-13 – 978-0993113444
Format – ebook, paperback
Reviewer – Linda
Rating – 5 Stars
I received a free copy of this book
Justine art sells around the world, but does anyone truly know her? When her mother dies, she returns to her childhood home in Yorkshire where she decided to confront her past. She ask journalist Rose Haldane to find the baby she gave away when she was an art student, but only when Rose starts to ask difficult questions does Justine truly understand what she must face.
Is Justine strong enough to admit the secrets and lies of her past? To speak aloud the deeds she has hidden for 27 years, the real inspiration for her work that sells for millions of pounds. Could the truth trash her artistic reputation? Does Justine care more about her daughter, or her art?
This is a tale of art, adoption,romance and loss, moves between now and the eighties, from London's art world to the bleak isolated cliffs of East Yorkshire and the hot orange blossom streets of Malaga , Spain.
'Connectedness' what a read!! Totally captivated within a few chapters of starting to read this book. A gripping tale of love, loss, and human struggle.
The book begins with a young student in the first steps of life, going to Malaga, Spain for Art college. We read of the highs and lows of being a student and being far away from home. Then how something happens charges an impact on the rest of her life.
Brilliantly written with very good descriptive language that shows such emotion on a very sensitive/delicate subject. So good that I was able to feel passion and sentiment.
The story flowed well and the plot unfolded gently through the book. It has a exceptionally good storyline that totally absorbed me and made it hard for me to put the book down. The characters came across realistic and I felt I knew Justine as she journeyed through her life, loving her respect for her family, the kindness and love she showed for her friend Darya. Lastly the deep love she held for her daughter.
I can't praise this book enough just loved it, and I one hundred percent recommend this lovely book and it is now one of my all time favourites! Well done Sandra Danby and I shall look forward to reading more from this author.
Reviewed by Linda
---
Purchase online from:
---
About the Author

Sandra Danby is a proud Yorkshire woman, tennis nut and tea drinker. She believes a walk on the beach will cure most ills. Unlike Rose Haldane, the identity detective in her two novels, Ignoring Gravity and Connectedness, Sandra is not adopted.






---
Blog posts straight to email via Bloglovin – Like us on Facebook – Follow us on Twitter