She's Bad News by Elle Spellman – Book Review
She's Bad News by Elle Spellman – Book Review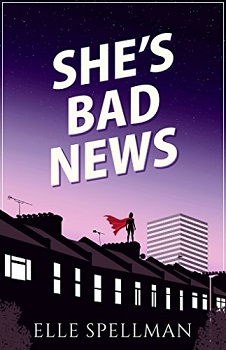 She's Bad News
Author – Elle Spellman
Pages – 300
Released – 29th November 2017
Format – ebook
Reviewer – Stacey
Rating – 4 Stars
I received a free copy of this book
Post contains affiliate links
What would you do if you woke up with super powers?
For Bella Brown, life hasn't gone according to plan. She's almost thirty, still living in her uneventful hometown, and her dreams of becoming an investigative reporter have fallen by the wayside.
That is, until she wakes up one morning to find she's been gifted with some amazing new abilities. What's a girl to do with heightened senses, super speed and the ability to lift a truck one-handed? Bella quickly discovers that her new powers can easily help her land front-page leads at local newspaper, The Hartleybourne Gazette.
Soon Bella's out every night chasing down local criminals for stories, while keeping her powers a secret from everyone besides flatmate Chloe. But when a burglary-gone-wrong accidentally turns her into the mysterious Hartleybourne Heroine, Bella finds herself on the front page for the wrong reasons. Her secret becomes harder to keep as she tries to track down the source of her powers, and especially when crime reporter Matt Gilmore is intent on unmasking the town's new vigilante…
Suddenly, having an extraordinary life is far more dangerous than she ever imagined.

Bella Brown had always dreamed of working as a journalist for some big news agency. Unfortunately, whilst her dream did come true, it didn't in the way she had hoped. She was now working for the Hartleybourne Gazette covering their health section 'Better Self'.
Her boss wanted her to write a review on NARCIS Ultra-Boost Slimming Tablets, which meant that Bella had to give them a try. The tablets, however, had a strange effect on her. They didn't make her lose weight, but they did heighten her senses, make her stronger and now she can run for miles without even feeling a tad out of breath – plus she is quicker at running too.
Bella soon realised that the tablets have given her the p-word (powers). With Hartleybourne having a high crime record, the city could use someone like Bella to help bring the criminals to justices. She has powers, she may as well use them.
'She's Bad News' follows Bella as she goes from ordinary person to a person needing to accept that something weird has happened to her and that it looks like the slimming pills were the cause.
Once she has accepted what the pills have done to her, she decides that the city needs her, so goes about bringing the baddies to justice. She is also trying to find out more about the tablets and how they changed her.
Her friend Chloe is the only one who knows about her powers, and of course, wants to be Bella's sidekick. Every superhero has a sidekick, right?
The book is a quick fun read. I did feel at times that some of the chapters could have been condensed down as there was information not particularly interesting or relevant to the story, and I did gloss over bits, hence the four stars and not five.
She's Bad News is an interesting read, and something different. It had me laughing-out-loud in parts. Perfect if you just want something that straightforward and easy to read.
Reviewed by Stacey
---
Purchase online from:
---
About the Author

Elle Spellman is a writer and comic book geek living in Bristol, UK. She's been writing since a very young age, spending her childhood afternoons penning stories about fictional adventures, and illustrating them too.
Now, Elle tends to write contemporary fiction with kick-ass heroines and a little bit of magic.  She's Bad News is her debut novel, and she's just finished working on her second. Her other interests include running, wine, red lipstick, the paranormal, and all things Batman.

---