Can't Catch Me! by Timothy Knapman – Book Review
Can't Catch Me! by Timothy Knapman – Book Review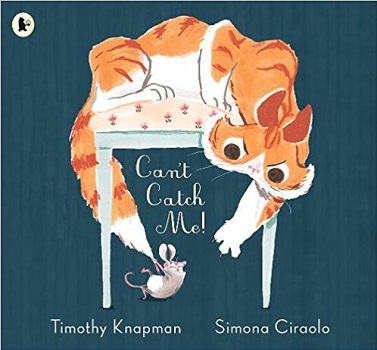 Can't Catch Me!
Author – Timothy Knapman
Illustrator – Simona Ciraolo
Publisher – Walker Books
Pages – 32
Released – 5th April 2018
ISBN-13 – 978-1406378399
Format – paperback, hardcover
Reviewer – Stacey
Rating – 4 Stars
I received a free copy of this book
Post contains affiliate links
A wicked, wild read-aloud romp from Timothy Knapman, author of Soon, and Simona Ciraolo, winner of the Sebastian Walker Prize, this is the story of Jake … the fastest mouse there ever was.
NO ONE can catch him. Not the fox, not the wolf, not even the bear. "Can't catch me," teases Jake. "I'm the fastest mouse in the world!" But cunning Old Tom Cat has his eye on that sweet, young mouse for his dinner and he's got a plan…

Jake was the fastest mouse in the world. He ran so fast that no animal could catch him. First tried Old Tom Cat, then Fox, followed by Wolf and eventually Bear, but none could catch him. He travelled that fast that he went all the way around the world and ended up back where he began, with Old Tom Cat.
This time though, Tom Cat has a plan to catch Jake, but, will it work?
Can't Catch Me!' reminded me of the Gingerbread Man story, with its repetitive 'Can't Catch Me!' sang Jake. 'I'm the fastest mouse in the world'. As different animals try to capture him. It is like a modern take on the story.
The book is fun and engaging. The illustrations are a delight. They are full-page and colourful. They also bring the story to life with the expressions that the animals have been given.
I can see Can't Catch Me becoming a firm favourite with its young readers. It would also be a great book for a class read too.
Reviewed by Stacey
---
Purchase online from:
---
About the Author

Timothy Knapman has written many books for children, including Mungo and the Picture Book Pirates, Dinosaurs in the Supermarket and Eleanor's Eyebrows. He also writes plays and co-writes musicals.
Timothy Knapman is available in a range of colours, and is washable.





---