A Single Journey by Frankie McGowan – Book Review
A Single Journey by Frankie McGowan – Book Review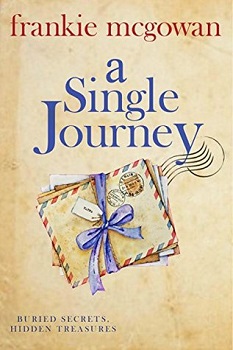 A Single Journey
Author – Frankie McGowan
Publisher – Endeavour Ink
Pages – 364
Released – 12th March 2018
ISBN-13 – 978-1911445531
Format – paperback
Reviewer – Linda
Rating – 5 Stars
I received a free copy of this book
Post contains affiliate links.
Harriet has begun to despair of her life.
With a failed relationship behind her, a business on the rocks and a flat that's falling apart around her ears, she could really use some luck.
Elena Banbury, née Guseva, an elderly but imposing Russian woman who is Harriet's neighbour and landlady, frequently entertains the punters at Harriet's jewellery stall with tales of the palaces of St. Petersburg and the treasures of Fabergé. But Harriet sometimes feels, guiltily, that she could do without the endless errands that seem to fall to her as Elena's friend.
Then, unexpectedly, when Elena dies, she leaves all her worldly goods to a grateful Harriet. In time, however, it becomes clear that others are shocked by Harriet's good luck, too. Shocked… and very, very unhappy.
Challenged in court by Elena's family who live in Berlin, Harriet is forced to give up her inheritance and long-dreamed-of plans for a new business, and start her life again. But with her reputation in tatters and the memory of Elena tainted, Harriet knows a great injustice has been done.
Against the advice of her friends, family and lawyers, Harriet sets off on her own, very singular journey to Berlin.
In the weeks that follow she meets rich and poor, the glamorous and the criminal, the honest and the secretive, and begins to see that perhaps she has something to learn from them all. Something to learn about herself, and something to learn about her priorities.
She knows she has to fight for justice. But, when she meets the scholarly, perceptive Neil, who generously tries to help Harriet in her mission, but who is struggling with a complicated marriage, she must also decide if she'll fight for love, too.

The prologue begins in 1933 in Berlin and tell us of 9 year old Elena escaping with her mother to Paris to get away from the Russian Rebellion, who had already killed her father. A powerful beginning to Frankie McGowan's A Single Journey I couldn't wait to read the first chapter!
It starts in modern day in Pimlico, London, at a market place, Raglan parade at jewellery stall of Harriet Flynn. Elena Banbury her landlady is there as usual telling stories of her childhood in Russia. Things all change when Elena Banbury dies and leaves everything to Harriet, who was always running errands and doing jobs for Elena, the mystery then unfolds of Elena past.
The book is certainly a mystery, I loved all the cloak and dagger in this story, also the historic past of Russia in 1933.
Harriet Flynn is the main character and she is taken out of her comfort zone to do whats right, her determination and resilience shines through. There's quite a few characters to get to know, the market traders, James particularly is always there for Harriet, girlfriend Lizzie and then the friends Harriet makes when she goes in search of the truth. The characters are described well and I loved Bebe's drive and stoicism who ran the women's refuge.
A very good read with plenty of different aspects of the storyline and plot to keep the reader interest with the added past historical facts. I did look up some of the facts and they are true to the word, certainly a harrowing time for thousands of people!
I found all the concepts well define, clear and convincing. I really loved A Single Journey and I would highly recommend it. I will certainly read more from this author in the future.
Reviewed by Linda
---
Purchase online from:
---
About the Author

My career began on teenage magazines before joining Fleet Street writing features for among others, The Sunday Times, The Times, The Daily Mail, Sunday Mirror (where I was an assistant editor and columnist).
Later as a magazine editor and while bringing up Tom and Amy, my now grown up children I launched and edited New Woman and Top Sante before switching to writing the first of my novels. My short stories have been published in a variety of magazines, including You, (Mail on Sunday) Women's Own, Home and Life, Image (Ireland), Redbook (US) The Lady and Woman's Weekly.
More recently I was asked to adapt two of my novels, A Kept Woman and A Better Life into screenplays. All my novels have reached the top twenty on Amazon which is the best feeling ever for any writer, but this year two of them, A Kept Woman and The Italian Lesson, both went to Number One in Australia for which I was thrilled and grateful to all those lovely people who bought them.
I am currently working on a new novel – well, I say working on it, what I mean is I've got a title for it, A Short Break – and the name of the heroine so all I need now is to try not to lose the plot.



---