The Silver Bells Christmas Pantomime by Lynsey James – Book Review
The Silver Bells Christmas Pantomime by Lynsey James – Book Review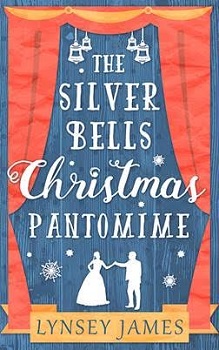 The Silver Bells Christmas Pantomime


A Luna Bay Novel
Author – Lynsey James
Publisher – HQ
Pages – 196
Release Date – 10th November 2016
Format – ebook
Reviewer – Stacey
I received a free copy of this book
Post Contains Affiliate Links

This Christmas pantomime is about to be the talk of the town!
Luna Bay's festive preparations are well under way and the much anticipated annual pantomime is to be, once again, the highlight of the season. Too bad that the village's very own actress and darling of Broadway, Alice Woods, isn't feeling in the mood for Christmas.
Until the pantomime comes under threat and a grief-stricken Alice is forced to push her personal pain aside and step up to direct – after all, the show must go on…
So with (more than) a little help from her new found friends, not to mention one very gorgeous Hollywood A-list celebrity, the play begins to come together, but will Alice finally believe that Christmas is a time for miracles after all?

After the tragic death of her boyfriend Jamie, three years ago, Actress Alice Ross left the bright lights of Broadway, and headed home to Luna Bay.
Since arriving back home Alice has tried to keep herself to herself. She doesn't like attention. Still in the mourning period she just wants to be left alone, preferring her own company to others.
After giving into her mum who wants her to start living again, Alice agrees to help out with the Silver Bells Christmas Pantomime (in a behind the scenes role), but Alice quickly finds herself out of her comfort zone in a role she never expected, nor wanted.
Ethan Fox, movie star, has headed to Luna Bay, where his family lives, to get away from the media hype for a while. He is instantly smitten with Alice, but her heart belongs to Jamie and always will. Will Ethan be happy just being Alice's friend? Will Alice learn to let go of the past and move on? And will the Christmas Pantomime be the laughing stock of the village, like every other year?
The Silver Bells Christmas Pantomime, is the third book in the Luna Bay series, and the second book from the series that I have read.
Alice is a bright young woman, with a fantastic future ahead of her, if only she would let herself move on from the past. She is still grieving for Jamie and finds comfort in talking to him, and trying to keep him in her life. Alice just needed a shove in the right direction to get herself living in the now again, and although she thinks that her mum is interfering in her life, it is her who makes Alice take that first step to happiness once again.
Ethan for being a famous movie star, and all the bad press that follows him around, is actually a sweet and caring young man. I really liked Ethan and his outlook on life. He also fitted the role of sexy male, according the women of the village!
The Luna Bay series are beautiful, romantic books set in a small village where everyone knows everyone else. The characters from the past books make appearances in this one, and it was lovely to catch up with them again.
Lynsey's writing brings you comfort on these drag, cold, wet nights. She whisks you away to Luna Bay and invites you into the lives of Alice and Ethan, as well as the other villagers. She makes you feel good, and The Silver Bells Christmas Pantomime will have you smiling from ear to ear, in this un-put-downable seasonal novel.
Book Reviewed by Stacey
Purchase Links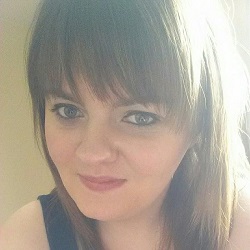 Lynsey James was born in Fife in 1991 and has been telling people how to spell her name ever since. She's an incurable bookworm who loves nothing more than getting lost in a good story with memorable characters.
She started writing when she was really young and credits her lovely Grandad – and possibly a bump on the head from a Mr Frosty machine – with her love of telling stories. She used to write her own episodes of Friends and act them out in front of her family (in fact she's sure she put Ross and Rachel together first!)
A careers adviser at school once told Lynsey writing wasn't a "good option" and for a few years, she believed her. She tried a little bit of everything, including make-up artistry, teaching and doing admin for a chocolate fountain company. The free chocolate was brilliant.
When Lynsey left my job a couple of years ago, she started writing full-time while she looked for another one. As soon as she started working on her story, Lynsey fell in love and decided to finally pursue her dream. She haven't looked back since.
When Lynsey's not writing, eating cake or drinking tea, she's daydreaming about the day Dylan O'Brien FINALLY realises they're meant to be together. It'll happen one day…
Author Links