Going for Two by Laura Chapman – Book Review
Going for Two by Laura Chapman – Book Review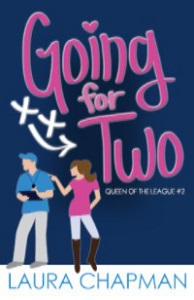 Going for Two
Queen of the League Book Two
Author – Laura Chapman
Publisher – Marching Ink
Pages – 320
Release Date – 16th January 2016
Format – ebook, paperback, audio
Reviewer – Jodie
I received a free copy of this book
Post Contains Affiliate Links

Harper Duquaine is back for another season of fantasy football! This time she's a year wiser and prepared to dominate the league. But while she finally seems to have her fantasy life in order, reality proves more challenging.
Her plans to peacefully play house with her boyfriend come to a halt when the high school suddenly names Brook its head football coach. The promotion comes with more responsibility on the field and less time at home. It also unexpectedly means more work for Harper, who already has her hands full helping a friend pull off the perfect proposal (while dodging questions about when she and Brook are going to get hitched already). Plus, a new development at work could leave her—and half of the fantasy league—jobless.
With the complications of her career and being "Mrs. Coach" adding up, Harper wonders if she's committed to the life she's already building or if there is something else out there.

Since we last left off in 'First and Goal', the two main characters, Harper Duquaine and Brook MacLaughlin, have moved in together.
They are loved up and their lives seemed perfect. This all starts to change when Brook's boss, the football coach at the school, is diagnosed with cancer.
Brook temporarily takes on the Coach's role, whilst the coach undergoes treatment. Shaken up by the devastating news, Brook puts his all into his new role, meaning he is spending less time at home – and less time with Harper.
Harper and Brook's relationship is put under an increasing amount of strain when what seems like all of Brook's time is taken up with coaching football. He's often home late. He's always tired. They soon begin to bicker. Their love life goes out the window and they have to fight for it if they want a future together.
It doesn't help matters when Harper finds everyone around her is getting engaged. Whilst her own relationship is beginning to hit the rocks. She wonders if she and Brook will ever get things back on track and get married themselves one day.
At work Harper is sworn to secrecy when a problem arises. She decides not to tell Brook, as he has enough on mind, so keeps it to herself and doesn't tell her friends at the dealership either.
When everyone does eventually find out the secret, we see one character grow up. JJ wasn't the nicest of characters in 'First and Goal', but when he finds out his job is at risk, he changes. I was waiting for JJ to show his jealous streak, and perhaps try and sabotage Harper's already deteriorating relationship with Brook, but JJ's character stopped being childish and totally proved me wrong.
He was no longer a jerk, instead becoming quite sincere and ultimately proving that his friendships with both Brook and Harper meant something to him. He even gives Harper some good honest advice when she's feeling low and doubting her future with Brook. He could have easily tried to turn Harper against Brook when she was feeling this way but instead his sincerity came out and he was shown to be more of a man than I was expecting.
Although the fantasy football element was in the book, it wasn't a major theme, unlike in the first book. We see more of what's going on in Harper's life, like the new craft business venture she sets up with Brook's sister, Amelia, and how much of a success it becomes.
Harper is still passionate about winning the fantasy football league this season, and her triumphs were again shown in the format of weekly league progress reports. There were more league members this time with Harper's brothers Scott and Christopher joining up.
Harper becomes very confident about winning the league, but with more league members to contend with and a very busy work life, the question is, can she pull it off?
I'd recommend this sequel whether you've read 'First and Goal' or not. It's funny, heartwarming, and you find yourself rooting for Harper and Brook when things get tough for them. The characters are fantastic and I was really pleased JJ turned himself around. Go buy Going for Two now!
Book reviewed by Jodie
Purchase Links

Excerpt
The quarterback claps his hands once, then twice. He takes the snap and steps back. He pitches the ball left to the running back and runs toward the end zone. The defense descends on the running back, who has only taken a few steps forward. He can't go any farther. If he does, he'll be tackled behind the line of scrimmage, and the clock will run out.
I cover my face, but peek through my fingers. I can't watch, yet I have to see what happens. With a hulking player lunging at him, the running back throws the ball straight to his right into the waiting arms of a wide receiver. The game clock ticks down to zero as the wide receiver pulls back and throws the ball into the waiting arms of the wide open quarterback.
Oh. My. God. That was one of the most ridiculous trick plays I've ever seen. It's like something from one of the epic football movies or TV shows Brook made me binge-watch with him over the summer. And it worked.
While the crowd around me roars, I set my sights on the sidelines once more. Brook jumps in the air and rushes out onto the field with the rest of the players and coaches. One of the offensive linemen pulls him into a hug that lifts his more than six-foot frame off the ground for a moment. The quarterback, who has finished his celebration in the end zone, turns on his heel and makes a run for the celebrating crowd. Brook never has a chance to prepare for the impact when the QB throws him to the ground. A bunch of the other players join in the pileup.
I wince through my laughter. "He's going to hurt in the morning."
Major MacLaughlin's lip twitches. "Probably so, but he'll say it was worth it."
"I wish they'd be a little more careful with him." Mrs. MacLaughlin darts a worried glance at the field. "He's not wearing any pads, and he's not as young as he used to
be."
"He's practically geriatric." Amelia winks at me. "I'm surprised the AARP even lets him out on the field." "I'm not saying he's old—"
"You don't have to." Amelia's face sobers, but her eyes sparkle. "I'm pretty sure I heard him complain about an ache in his hip that bothers him whenever the weather
turns cold."
Mrs. MacLaughlin's face grows concerned, and her husband intervenes—sending a warning look at Amelia—assuring her that Brook is fine.
One by one the players roll out of the dog pile and spring to their feet to greet the waiting parents and fans. The quarterback is last to stumble up. He offers Brook a hand to help him stand. Limping up, Brook's face is flushed but beaming. Leaning his forehead against the player's helmet, he says something and pats the top of the player's head. A lump lodges in my throat, and my eyes sting.
What is it about a great football comeback story that always makes me cry? The ruckus on the field cools to handshakes and hugs. Brook glances up at the stands. Amelia's daughters, Marley and Ellery, jump around waving their arms and screaming his name. A grin spreads across his face, and he waves back.
I'm making a resolution right now. Every time I feel the slightest ebb of jealousy or annoyance about how much time he spends on his job, I'm bringing myself back here, to this moment. I'll remember the pure joy on his face, the joy swelling in my heart. And I'll understand why he puts in the early mornings and late nights.
His eyes scan past the girls and Amelia, past her boyfriend, Wade, and his parents until they land on me. The grin turns up a watt just for me. He covers his heart then points at me. My breath catches, but I manage to mouth "I love you, too" back. For a few seconds, it's just us. Him and me. Like we're in a bubble, and everything around us fades away. Yeah, I'm definitely saving this memory for later.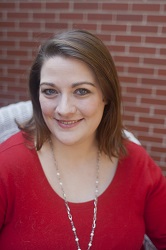 Laura Chapman is the author of Going for Two, First & Goal, The Marrying Type, and Hard Hats and Doormats. Her work also appears in Merry & Bright, A Kind of Mad Courage, and the holiday collection 'All I Want For Christmas' from Marching Ink.
She loves Huskers and Packers football, Netflix marathons, and her cats, Jane and Bingley.
Laura makes her home in Nebraska, where she is penning her next novel. Be sure to check her out on Facebook, Twitter, and Instagram.
Author Links