Art & Grace by Catherine E. Chapman – Book Review
Art & Grace by Catherine E. Chapman – Book Review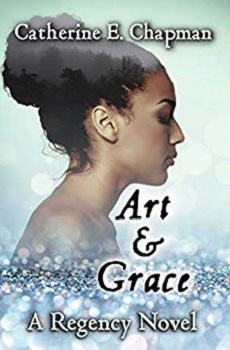 Art & Grace
Author – Catherine E. Chapman
Pages – 175
Released – 19th July 2019
ISBN-13 – 978-1081374327
Format – ebook, paperback
Review by – Julie
Rating – 3 Stars
I received a free copy of this book.
This post contains affiliate links.


Bristol, England, in the early Nineteenth Century. The slave trade has been abolished but slavery itself has not yet been outlawed. Bess, a young woman of mixed heritage, has an ambiguous position in the home of the once-eminent Liston family. Raised and educated alongside the family's children, Richard and Artemisia, she has been increasingly confined to the role of a domestic servant since the death of Joshua Liston, the household's head.
When Richard Liston instigates an introduction between Captain Adam Bryce, a Royal Naval officer of repute, and his sister, Artemisia, Adam shows greater interest in Bess. Pressed by Artemisia to stalk Adam, Bess's problems begin. And when the ailing matriarch, Elizabeth Liston, presents Bess with an impossible choice, the weaving of a web of deceit commences that will ultimately push Bess and Artemisia's friendship to the brink.
As the scene shifts to rural Somerset, things are far from serene: Sebastian Weston, occupant of the grand Milton Abbey, means to hold both Bess and Artemisia in his thrall. Rivalries ensue, the bond between Artemisia and Bess being strained by their allegiances to the men in their lives. Charting the turbulent waters of family commitments and amorous liaisons, it's hard to fathom who to trust and whom to love.

'Art and Grace' is a historical novel by British-based author, Catherine E Chapman. It is written in the first person and the past tense, with the action being seen from the perspective of Bess, a young mixed race woman, who lives with a middle class family in Bristol. From the synopsis, it wasn't difficult to guess at her relationship to the Liston family. In fact, Mrs Liston gives up the secret in an instant when she is questioned, so it is rather surprising that Bess has not taken the opportunity to do this before.
The plot is focused on the dynamic between Bess and Artemisia, however both young ladies have their own love interests and as the story develops, we witness the trials and tribulations which beset them.
I like the cover of this book as it is simple but eye-catching and its relevance becomes apparent once the story unfolds.
We know this is a Regency novel, which narrows the parameters but there is little in the story to anchor it in either time or place. I think the author missed a trick here because she could have used some of the fascinating historic landscape that this era provides, to her advantage. I wanted to feel a sense of Georgian England with all hustle and bustle, injustices and inequalities and this would have given the cast a richer backdrop. The author gives her characters very little help so, for me, they lacked depth. Multi-layering would have enabled me to award a higher star rating.
Bess appears to be a detached young woman who deals with every calamity to befall her, in a matter-of-fact sort of way. Because she doesn't seem to particularly care, it made it difficult for me to care either. Richard, Artemisia's brother, is a rogue and his character could have been explored further to make him into a well-rounded hate-figure but again, he fell rather flat. I found Sebastian Weston confusing; he seems fairly cynical but then inexplicably benevolent.
I found the continual use of the word 'quit' incongruous. This seems now to be accepted in contemporary British-English but I'm not sure people at the time the novel was set, would have 'quit' a room or used the term when talking to one another. Devotees of this period of history might well be more knowledgeable in this regard.
On the positive side, this book was very easy to read with a good balance between dialogue and description. If you're into relationships and historical romance, then you will probably enjoy it. I award three stars.
Book Reviewer – Julie
---
Purchase online from:
---
About the Author
I'm a writer of women's fiction and contemporary and historical romantic fiction. My longer works have been described as accessible character fiction, humour often being an important ingredient.
My seven short historical romances are available in the anthology, 'Collected Romances,' in digital and print format.
Most of my books are available digitally from Amazon, Smashwords and their retailers (B&N, Apple, Kobo, etc). Some are also available in print.
My latest publication, 'Art & Grace,' is a romance set in Regency England. It is currently available digitally and in print from Amazon and enrolled in Kindle Unlimited.
For tasters of my contemporary writing, five short stories are available to download free from Smashwords and their retailers.



---
What did you think of Art & Grace? Share your thoughts in the comment section below!
---
The above links are affiliate links. I receive a very small percentage from each item you purchase via these link, which is at no extra cost to you. If you are thinking about purchasing the book, please think about using one of the links. All money received goes back into the blog and helps to keep it running. Thank you.