The Writing Life of: Nicola May
Nicola May
This week I am thrilled to be interviewing author Nicola May. Nicola will be sharing with us details of her writing life, telling us all about her upcoming new book 'The Gift of Cockleberry Bay', which will be released on 1st April 2020 and answering a few fun questions too. This post contains affiliate links.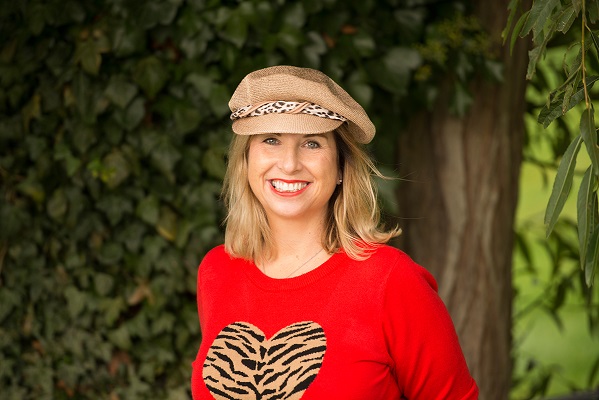 Nicola May writes romantic comedy and lives near to the Queen's Windsor Castle. She first self-published in 2011 and is currently writing her eleventh novel. Her ninth novel, The Corner Shop in Cockleberry Bay has sold over 180,000 copies, reached #1 on Amazon Kindle and is being translated into Spanish, Estonian, Czech, Italian and Dutch. The sequel, Meet Me in Cockleberry Bay was released in July and the final book in the trilogy; The Gift of Cockleberry Bay will be out on April 1, 2020.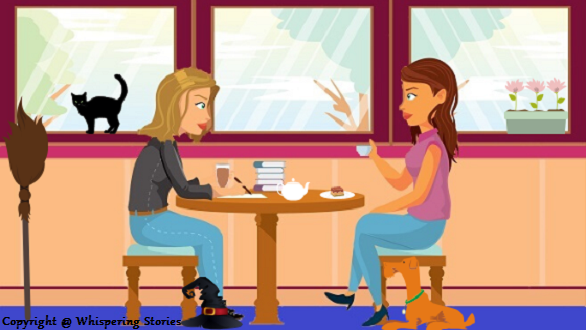 1) As a child did you have a dream job in mind?
I either wanted to be an air hostess or an actress.
2) Who was your favourite childhood author (s)?
Enid Blyton. I devoured her Secret Seven and Famous Five books.
3) Was there a particular point in your life that you realised you wanted to be a writer?
I didn't start writing until my thirties. I was working in PR at the time, loved a drink and smoked 20 a day and was dared to run a half marathon. I thought it would be quite funny to create a comedy diary of events throughout my tough training. Amazingly, I completed the run, but didn't finish the diary. It did, however, give me the writing bug and I completed my first novel in 2003.
4) What is your average writing day like? Do you have any special routines, word count, etc?
I write mainly in bed but also at my kitchen table. I start writing after breakfast and then continue until I am too tired to carry on. Usually around 6 to 7 hours a day.
5) How many books have you written? Any unpublished work?
I have written ten romantic comedy novels, the eleventh is out in April this year.
6) Are you a plotter or a pantser?
I've always been a bit of a seat-of-the-pants type of writer, but writing a series was a bit different as I needed to line up plot lines for future books.
Concerning your latest book: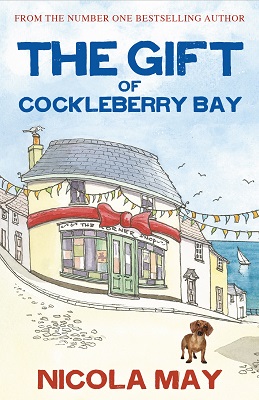 The Gift of Cockleberry Bay
Author – Nicola May
Publisher – Lightning Books
Pages – 320
Release Date – 1st April 2020
ISBN 13 – 978-1785632068
Format – ebook, paperback

All our favourite characters from Cockleberry Bay are back, including Hot, Rosa Smith's adorable dachshund, and his new-born puppies.
Now successfully running the Cockleberry Cafe and wishing to start a family herself, Rosa feels the time is right to let her inherited Corner Shop go. However, her benefactor left one important legal proviso: that the shop cannot be sold, only passed on to somebody who really deserves it. Rosa is torn. How can she make such a huge decision? And will it be the right one?
Once the news gets out and goes public, untrustworthy newcomers appear in the Bay, their motives uncertain. With the revelation of more secrets from Rosa's family heritage, a new journey of unpredictable and life-changing events begins to unfold.
The Gift of Cockleberry Bay concludes this phenomenally successful series in typically brisk and bolshy style and will delight Rosa's many thousands of fans.
7) How did you go about researching the content for your book?
My current trilogy is based around a fictitious seaside town in Devon. I have spent many years holidaying in the south west of England. Not much research is required as it is based in real-time.
8) How long did it take to go from ideas stage to writing the last word?
6 months.
9) How did you come up with the title of your book?
The Cockleberry Bay book series allows the titles to write themselves really. The Gift of Cockleberry Bay was quite easy to come up with as Rosa is looking to gift the Corner Shop in Cockleberry Bay to a deserving recipient.
10) Can you give us an insight into your characters?
I've written so many, but I do like to write my characters with flaws. We all have them. It makes for a more interesting read. Rosa, the heroine of the Cockleberry Bay series was fostered as a child and you follow her journey through addiction, self-esteem and anxiety issues created from her past.
11) What process did you go through to get your book published?
I started off self-publishing, then in 2015 I signed a 7 book deal with a traditional publisher. In 2018 I decided to go it alone again. I publish my eBooks myself, but I do now have a print publisher in Lightning Books. I have also started producing my own audio books.
eBook production is an easy process. My father is an artist, so he illustrates the covers, which I then get designed. It's then a case of formatting and uploading to Amazon. I swear by Amazon Kindle Direct Publishing.
12) What's next for you writing wise?
I have a few ideas circling around my head. I've been immersed in the characters in the trilogy for so long that it will be weird and quite sad to break free from then. So, I think I will have to write Christmas in Cockleberry Bay and say goodbye to them after that…maybe…
Fun Questions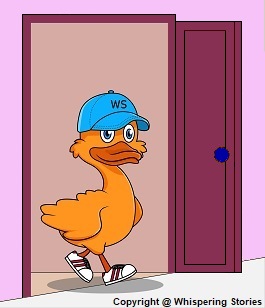 1) If you could have any super power for the day which would you choose?
I would be invisible so that I could sneak into bed with James Arthur or Stormzy.
Stanley or Stan the Man by beautiful black and white cat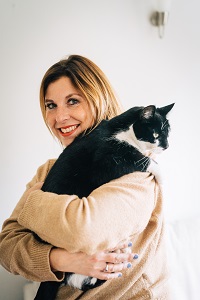 3) If you decided to write an autobiography of your life, what would you call it?
May I?
4) Your book has been made into a feature film and you've been offered a cameo role, which part would you choose, or what would you be doing?
I would be the Celebrant at Titch and Ritchie's wedding.
5) Where is your favourite holiday destination?
Devon, of course!
6) A baseball cap wearing, talking duck casually wanders into your room, what is the first thing he says to you?
'Fancy a duck?'
---
I would like to say a big thank you to Nicola May for sharing with us details of her writing life and for a wonderful interview.
Author links





---
Share your thoughts on our interview with Nicola May in the comment section below!
---
The above links are affiliate links. I receive a very small percentage from each item you purchase via these link, which is at no extra cost to you. If you are thinking about purchasing the book, please think about using one of the links. All money received goes back into the blog and helps to keep it running. Thank you.