First & Goal by Laura Chapman – Book Review
First and Goal by Laura Chapman – Book Review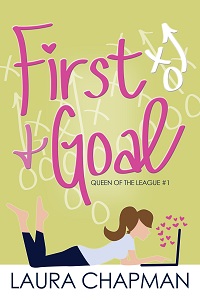 First & Goal
Queen of the League Book One
Author – Laura Chapman
Publisher – Marching Ink
Pages – 278
Release Date – 6th September 2015
Format – ebook, paperback, audio
Reviewer – Jodie
I received a free copy of this book
Post Contains Affiliate Links

When Harper Duquaine's no-nonsense approach to work unintentionally ruffles the wrong feathers at her new job, she joins her co-workers' fantasy football league to prove she can hang with the guys. Only problem: she doesn't know a sleeper from a keeper (or any of the other lingo thrown her way).
Embroiled in a world of lineups, stats, and trades, Harper's quest to make nice topples when her competitive streak emerges. And her promise to herself that she'll be a strong, independent woman and leave the drama and heartache behind is seriously tested when she catches the attention of her two biggest competitors: J.J., a local celebrity determined to win a fantasy championship, and Brook, the mild-mannered coach who seems too good to be true. Both threaten her resolve to remain single… and, more importantly, her chances at winning the prize pool.
With a slew of conflicting advice in her real and fantasy worlds, Harper must figure out how to play the game and come out a winner.

Harper Duquaine requests a transfer in her job at a car dealership and moves to Lincoln from Dallas after six months of working with her cheating ex-boyfriend Dirk, and making a few mistakes in the man department.
Living with her two brothers, Scott and Christopher, Harper gets back on her feet and grabs life again. She makes a go of her job and within a month reduces the spending of the company by twenty percent.
Her boss Anderson is impressed but he encourages Harper to make more of an effort with her new colleagues, and in an attempt to be more sociable, Harper ends up joining the fantasy football league with Gio, Wade, J.J, and their friends.
Harper is a very likeable character. She's not perfect. She makes mistakes – like most of us do, and that enables us to relate to her. She's not a girly girl, but although she's one of the guys, she isn't a ladette either.
Harper tries her hardest to win the league and I loved her competitive streak. She wanted to win and prove to everyone, including herself, that she can do it.
Harper begins to fall for Brook MacLaughlin, one of the guys in the fantasy football league, and one of her biggest competitors. You can see why she finds him so appealing. He's strong, kind, and a true gentleman who has family at his heart. He is the father that his nieces never had and he's a rock to his sister, Amelia.
Brook loves his family and friends dearly and could be seen as too good to be true, but like Harper, he is a very likeable character. He stands up for what he believes in and will do anything to protect those he holds dear.
All the characters are unique, with their own strengths and weaknesses, which make them more realistic and believable. There was one character in particular with whom I had a sense of foreboding throughout the entire book (I won't say who) and my instincts were right. That person was vindictive and jealous and their true colours were revealed at the end.
The author either knows her football, or has done her research extremely well. The passion for the game is evident in her writing and she draws you in.
I usually join the fantasy football (soccer to those in the USA) league at work and we're planning on a family league next season too, so I can relate to Harper's character – she supports a team, watches the games, but doesn't know every player in the league or every rule of game play and occasionally has to ask for a little help.
I am clueless about American football but the book was so well written and the games were superbly described that it didn't matter that I didn't know what a hook was or what a wide receiver does.
This story was such a refreshing change to a lot of the chick-lit that has been published mainly due to the football aspect. I'm not sure if I could even class this as chick-lit.
I also liked the way the chapters were set out. From chapter six onward, once the games were underway, the fantasy football weekly recaps were written up for Harper. They were funny and gave a brief recap of how her team were getting on each week. It was an unusual but clever addition to the book.
I absolutely loved First & Goal and could barely put it down. I would highly recommend reading it regardless of whether or not you're a football fan. I can't wait to read the sequel 'Going For Two.'
Book reviewed by Jodie
Purchase Links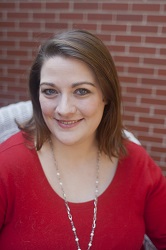 Laura Chapman is the author of Going for Two, First & Goal, The Marrying Type, and Hard Hats and Doormats. Her work also appears in Merry & Bright, A Kind of Mad Courage, and the holiday collection 'All I Want For Christmas' from Marching Ink.
She loves Huskers and Packers football, Netflix marathons, and her cats, Jane and Bingley.
Laura makes her home in Nebraska, where she is penning her next novel. Be sure to check her out on Facebook, Twitter, and Instagram.
Author Links