You and Me, Always by Jill Mansell – Book Review
You and Me, Always by Jill Mansell – Book Review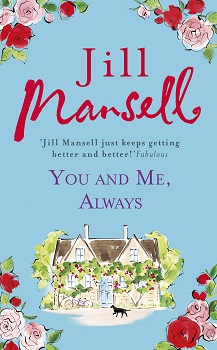 You and Me, Always
Author – Jill Mansell
Publisher – Headline Review
Pages – 368
Release Date – 28th January 2016
ISBN 13 – 978-1472208873
Format – ebook, paperback, hardback, audio
Reviewer – Stacey
I received a free copy of this book
Post Contains Affiliate Links

Lily's always been surrounded by love.
Ever since her mother died, she's been cared for by friends who are as close as any family.
Coral, her mum's best friend; Patsy, her old babysitter – and even Dan, Patsy's incorrigible younger brother – have always been there for her.
But when she chance comes to meet the man who was the love of her mother's life, Lily knows she has to take it. Getting to know him could change everything, and not just for Lily…

When Lily was just 8 years old her mother died, leaving her friend's mother, Coral, to bring her up.
Every year on her birthday, Coral has presented Lily with a letter and a special gift that her mum left for her, signed 'you and me, always'. These letters and gifts have been coming for the last 16 years, and now that she has turned 25, the 17th and last letter and gift, has been given to her containing some very interesting information about her mum's true love, the one she let slip away.
Lily decides that she can't let this man live on without him knowing how her mother really felt about him, and she would like to find out from him, all about his and her mothers' time together. But will he want to know?
This is the first book that I have ever read by Jill Mansell, and I doubt it will be my last. The book centres around Lily and her friends in the countryside setting of Stanton Langley.
Lily is such a lovely, polite, hard-working and beautiful young woman, who even-though she had a truly awful time as a child, losing her mum, she has turned out to be just the woman her mum would be proud of.
As well as Lily, we are introduced to the villagers, including her best friend and hairdresser, Patsy, Patsy's brother Dan, the philander, who also just happens to be gorgeous, and a pilot. There is also Coral, Lily's surrogate mother, alongside a few out-of-towners, including a very famous film star who is trying to hide from the press.
From the very first page I found myself engrossed in Lily's life. Told in the third person, the book also has you getting to know and care about the rest of the characters, as each are given their own voice and don't fall by the wayside, overshadowed by Lily.
The story will play with your emotions and have you laughing one minute (Patsy and her dating comes to mind), to sobbing your heart out the next. 'You and Me, Always' is a beautiful story about love, loss, family and friendships, and will have you realising just how precious life is.
Book reviewed by Stacey
Purchase Links


Jill Mansell lives with her partner and children in Bristol, and writes full time. Actually that's not true; she watches TV, eats fruit gums, admires the rugby players training in the sports field behind her house, and spends hours on the internet marvelling at how many other writers have blogs. Only when she's completely run out of displacement activities does she write.
Jill Mansell's books have sold over ten million copies and her titles include: Making your Mind up, Fast Friends, Good at Games, Sheer Mischief and Solo, among many others.
Author Links