Tarquin Jenkins and the Book of Dreams by Peter Ford – Book Review
Tarquin Jenkins and the Book of Dreams by Peter Ford – Book Review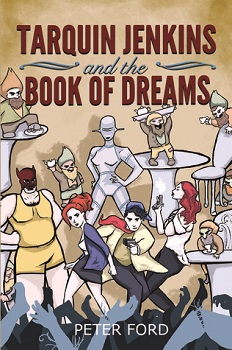 Tarquin Jenkins and the Book of Dreams
Author – Peter Ford
Publisher – Bloated Shagganat
Pages – 324
Release Date – 27th February 2016
Format – ebook, paperback
Reviewer – Lindsay
I received a free copy of this book
Post Contains Affiliate Links

All Tarquin Jenkins wanted to do, was travel through space and time, solve some of the Universe's more pressing problems, and lay hands on the Nerydire Book of Dreams.
Unfortunately, nobody told him about the bloodsucking Leche, the leprechauns, the other leprechauns, the killer androids, the extremely rude waitress, Nostradamus, Leonardo da Vinci, the malfunctioning toaster, the Zargothian legal system, the Bloated Shagganat nightclub, the psychopathic Griddleback hordes, and a flame- haired, one-eyed space pirate called Georgia Blade. After he got his head round all that, Tarquin's life became a little complicated…

"The sleepy Northamptonshire village of Steeple Snoring was not known for its bears. In fact, nobody at the post office could recall ever having seen one here before, let alone thirty strolling down the High Street."
This opening line hooked me!, and I couldn't wait dive in and read more. Peter Ford has managed to created a crazy, wacky universe with time-travelling aliens, wicked bad-guys and daring teens.
The teens had a great support group, with each other and their mentors which I particularly liked. I wasn't so keen on how some of the characters were not as developed as the rest…Archie and Alice in particular. I felt that these characters had so much more depth to them that wasn't shown.
The story had a "Hitchhiker's Guide to the Galaxy"-ish feel to it, yet is was also completely unique and imaginative.
Peter's writing style was witty, and full of pop culture. There are even explanations of how some historical events really happened.
I think this book would appeal to a whole variety of readers, but I specifically thought of all four of my sons-two teenagers, one middle grade and one elementary. All of them would love the irreverent references to bodily functions—flatulence.
I recommend Tarquin Jenkins and the Book of Dreams to all readers who love fun, witty adventure.
Book Reviewed by Lindsay
Purchase Links


Father, immigrant, and a 'big kid'. This is me. A photographer by profession, a writer with a passion, a passion for the absurd, the silly, the crazy.
Author Links