Small Spaces by Sarah Epstein – Book Review
Small Spaces by Sarah Epstein – Book Review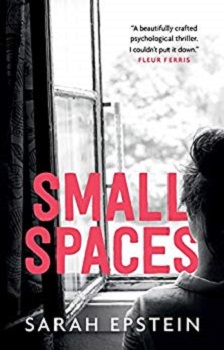 Small Spaces
Author – Sarah Epstein
Publisher – Walker Books
Pages – 384
Released – 5th April 2018
ISBN-13 – 978-1406384789
Format – ebook, paperback
Reviewer – Cara
Rating – 4 Stars
I received a free copy of this book
Tash Carmody has been traumatised since childhood, when she witnessed her gruesome imaginary friend Sparrow lure young Mallory Fisher away from a carnival. At the time nobody believed Tash, and she has since come to accept that Sparrow wasn't real.
Now fifteen and mute, Mallory's never spoken about the week she went missing. As disturbing memories resurface, Tash starts to see Sparrow again. And she realises Mallory is the key to unlocking the truth about a dark secret connecting them. Does Sparrow exist after all? Or is Tash more dangerous to others than she thinks?
Small Spaces is a gripping young adult thriller from debut Australian author Sarah Epstein, perfect for 14+ fans of Fleur Ferris and Rebecca James.
Natasha Carmody is trying to live a normal teenage life, but due to dark childhood secrets, she is starting to confuse reality with imagination.
When the Fisher family move back into town, all those thoughts and fears she had tried to forget in the last ten years come flooding back along with Sparrow, the imaginary friend she watched lure six-year-old Mallory Fisher away. Determined to find out what really happened all those years ago, Natasha befriends the family and tries to piece together a childhood nightmare that just won't go away.
Small Spaces is a well written, easy to read novel that has you guessing throughout. The main character suffers psychological problems which brings on paranoia and so whilst reading you find yourself suspecting everyone and trusting no one. I found myself caring for the main character and getting frustrated with people who were mistreating her. I was very satisfied with the ending and felt no stone had been left unturned.
I thoroughly enjoyed reading Small Spaces and found it difficult to put down. I am looking forward to any future books the author may release.
Reviewed by Cara
---
Purchase online from:
---
About the Author

Sarah Epstein spent her childhood drawing, daydreaming and cobbling together picture books at the kitchen table. A writer, illustrator and designer, she grew up in suburban Sydney and now lives in Melbourne with her husband and two sons. Her first novel Small Spaces was shortlisted for The Readings Young Adult Book Prize.






---
Blog posts straight to email via Bloglovin – Like us on Facebook – Follow us on Twitter