Demon Sky by Stephen Aleppo – Book Review
Demon Sky by Stephen Aleppo – Book Review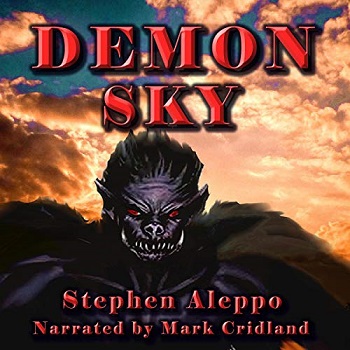 Demon Sky
Author – Stephen Aleppo
Narrator – Mark Cridland
Released – 8th July 2019
Format – audiobook
Rating – 5 Stars
I received a free copy of this book.
This post contains affiliate links.


Synopsis
After spending six weeks in the hospital recovering from a car accident, Charlotte Pearce is surprised when an Aunt she barely knows arrives to collect her. Her Father's been taken ill in France and her Mother has flown out to stay with him until he's fit enough to return home.
Meanwhile, Charlotte must go stay with her Aunt in her crumbling ruin of a house deep in the countryside.
Aunt Sarah has enough problems of her own as Charlotte's young cousin Nick has mysteriously fallen from his bedroom window three days earlier and now lies comatose in a local hospital. On her first night Charlotte discovers that a star shaped object has been removed from a frame Nick had hanging in his room.
One of the points is missing. But before she can ponder this for too long a strange vision of the boy appears in the bathroom mirror. Nick is standing on an old circular piece of stone out on the grounds known locally as the Penny Stone. He is clearly begging for her help and terrified of something lurking in the darkness behind him.
Any thoughts about a relaxing convalescence in the old house are short lived as she finds herself forced into a dangerous game where she has to piece together what she has to do to save Nick and many other children from a fate worse than death in less than a week. And with nothing more than a zany young cousin from Ireland for help.
'Demon Sky' is a young adult tale by prize-winning author, Stephen Aleppo. In the first chapter we meet sixteen year old Charlotte after she has been discharged from hospital. We see the action through her eyes in the third person and the past tense.
Leaving aside the unlikely possibility that her aunt would welcome her when her own son lay in a coma in hospital, we accept the scenario that Charlotte goes to stay at the creepy Foxley Grange. As soon as she arrives, she feels uncomfortable. She meets her gluttonous Irish cousin, Holly, who is able to fill Charlotte in on Nick's accident and also all manner of strange occurrences in the locality. Holly suspects aliens but Charlotte's more down to earth curiosity takes them to the nearby research facility.
Can all the peculiar events be explained by the scientists who are looking at harnessing lightning as a power source? What is the motivation behind the odd behaviour of Margaret Sutherland, an elderly lady who is desperate to keep all children off the dark sinister bridge? How do a star-shaped object, unlikely employees at the stable next door to Foxley Grange and a black mist hiding a menacing secret, all fit together? We are encouraged to read on to find out.
Each new character is introduced in a subtle way as the layers of the story build. There are some vivid descriptive passages as we watch Charlotte and her foils try to unravel a dark supernatural mystery. We have snippets of foreshadowing of a powerful evil force getting stronger as the plot develops.
An awful lot happens in a very short space of time so the story zips along at pace, which will no doubt appeal to its target audience. Some interesting and well thought out elements are introduced as the climax draws near and I'm impressed by the imagination of the author who doesn't fall into the formulaic trap of overplaying the evil monster angle.
I thoroughly enjoyed this book; the young cast carry the story well with a few older characters playing cameo roles along the way. This is a welcome refreshing approach in a crowded genre and I think it could be a winning formula. I award five stars.
Purchase Online From:
---
What did you think of 'Demon Sky'? Share your thoughts in the comment section below!
---
The above links are affiliate links. I receive a very small percentage from each item you purchase via these link, which is at no extra cost to you. If you are thinking about purchasing the book, please think about using one of the links. All money received goes back into the blog and helps to keep it running. Thank you.
Like us on Facebook – Tweet us on Twitter – Pin us on Pinterest – Join us on Instagram