William Wenton and the Luridium Thief by Bobbie Peers – Book Review
William Wenton and the Luridium Thief by Bobbie Peers – Book Review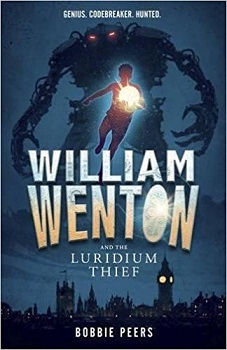 William Wenton and the Luridium Thief
Author – Bobbie Peers
Publisher – Walker Books
Pages – 272
Release Date – 6th April 2017
ISBN-13 – 978-1406371703
Format – ebook, paperback
Reviewer – Stacey
I received a free copy of this book
Post Contains Affiliate Links

Packed full of magical code-breaking skills, wisecracking robots and a young hero who might just be too clever for his own good, this tech-savvy adventure is perfect for fans of Percy Jackson and Alex Rider.
Twelve year-old code breaking genius William Wenton, is trying to make sense of his family's dramatic escape from their home in London. But when his extraordinary talent for cracking codes is suddenly revealed, William must face the danger that has been lurking around him for years.

William Olsen, or William Wenton, his real name, was on the run with his parents, now living in Norway. The family has been on the run ever since his grandfather went missing at Victoria Station, in London. William didn't really know why, or who they were running from, all he knew was that he wasn't to bring attention to himself, or his parents.
When 'The Impossible Puzzle' came to Norway's History of Science Museum, William was overly excited. He loved puzzles, and was rather quite good at them. He dreamed of being a cryptographer.
On a school trip to see the puzzle, William forgot all about staying off the radar, and decided to try to crack the puzzle, especially seen as no-one else had managed to do it. Fortunately, or unfortunately, William did it, he'd cracked it, meaning that the world's media were now talking about him.
In the middle of the night, William was woken by his parents telling him to run, but he didn't get far before he was caught, and taken to a secret institution for post-human research. But what do they want with William, and why?
William Wenton and the Luridium Thief, is an exciting young adult adventure book. It has a great cast of characters, especially William, with his determination, and wit.
The story is full of mysterious moments, suspension, and many twists and turns. This technological advanced book will have you delving into a futuristic world, being created in the present.
I can see this being a big hit with older children/young adults, looking for a book that will perk their interest and give them the setting to send their imagination into overdrive.
The plot is strong and the tension builds steadily throughout. William Wenton and the Luridium Thief is a book that will hold your attention right until the very last page.
Book reviewed by Stacey
Purchase Links


Bobbie Peers (b. 1974) made his mark on Norwegian film history when he in 2006 won a Palme d'Or for his Sniffer, written and directed by Peers himself. The award became the first of many milestones in the London International Film School graduate's career as a director and film writer.
2015 witnessed the multi-talented Peers' debut as a children's books author. William Wenton and the Luridium Thief is the first book in a forthcoming series featuring the code breaking whizz William.
Author Links