Hyper by John A. Autero – Book Review
Hyper by John A. Autero – Book Review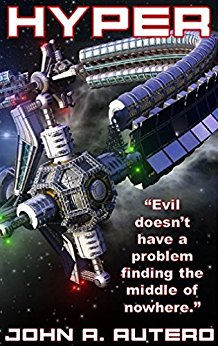 Hyper
Author – John A. Autero
Publisher – Createspace
Pages – 216
Release Date – 27th May 2017
ISBN – 978-1545271896
Format – ebook, paperback
Reviewer – Clive
I received a free copy of this book
Post Contains Affiliate Links

"Evil doesn't have a problem finding the middle of nowhere."
People are being savagely murdered on Decontamination Depot 315 and Charlie Kennedy needs to figure out who's doing it. Is it the most logical choice, the prisoner visiting the depot who happens to be a convicted multi-murderer? Or is it the goody-two-shoes from Kansas who seems to be everybody's best friend? Or maybe the soldier from the Russian crime syndicate? And don't forget about the thug from the south side of Chicago.
To make matters worse, the culprit has programmed the depot to self-destruct unless Charlie can figure out some way to stop it.
No matter how far mankind travels into deep space, evil will always be at his side ready to twist his moral compass one hundred and eighty degrees.

John A Autero has used a tried and tested whodunit formula to good effect. Take a small number of varied characters, place them in a confined space and then have them die one by one. Other authors have used remote gothic mansions, ships and arctic weather stations; our author has used a space station set in the future.
Regardless of the setting Autero has produced a simple tale of suspense with some gory moments that is an effortless read.
I was not too convinced by his vision of 2061. Given that is just 44 years hence he has forecast some unbelievable advances in space travel and android technology whist on other occasions he refers to practices that would seem out of date today.
And I had to shout out loud at the unbelievable stupidity of a character during one of the key points in the plot. Surely Autero could have come up with a more subtle deception to move that part of the story forward.
That said, it all built up to a lively crescendo with some violent action when the good guys beat the evil villain against the odds. We then had the final twist which I personally did not find particularly surprising but others may be impressed on hearing the truth.
In summary this is a good light-weight read; just don't take Hyper too seriously. I have awarded three stars.
Book reviewed by Clive
Purchase Links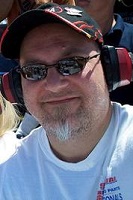 John A. Autero is an indie author of techno-thriller adventure novels. An engineer by education, John employs a technical style of writing that combines existing technologies with those that are yet to be developed.
John enjoys anything sci-fi, automotive, heavy metal and ballistic. Always a fan of government conspiracies and black-ops, stories like "The Terminator" and "The X-Files" are always on his list of favorites.
John was born in the United States and has spent his entire life there, where he happily lives with his wife and pets.
Author Links