Home by Penny Parkes – Book Review
Home by Penny Parkes – Book Review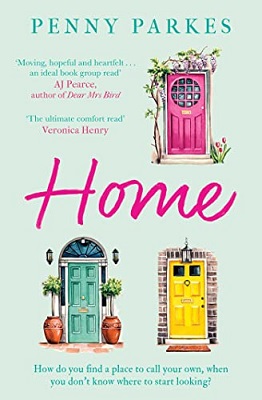 Home
Author – Penny Parkes
Publisher – Simon & Schuster UK
Release Date – 20th January 2022
Pages – 464
ISBN 13 – 978-1471180187
Format – ebook, paperback, hardcover, audio
Star Rating – 4
I received a free copy of this book.
This post contains affiliate links.

Synopsis
A gripping and heartfelt story about overcoming the past and finding where you belong.
Anna Wilson travels the world as a professional housesitter – stepping into other people's lives – caring for their homes, pets and sometimes even neighbours. Living vicariously.
But all Anna has ever really wanted is a home of her own – a proper one, filled with family and love and happy memories. If only she knew where to start.
Growing up in foster care, she always envied her friends their secure and carefree lives, their certainty and confidence. And, while those same friends may have become her family of choice, Anna is still stuck in that nomadic cycle, looking for answers, trying to find the courage to put down roots and find a place to call home.
Home by Penny Parkes is a heartfelt and poignant book looking at the life of professional house sitter Anna Wilson.
Told in three different timelines, we first meet Anna in her thirties as she arrives at her latest house-sitting job in the Oxfordshire countryside where she will be looking after a Victorian Manor House and the owner's two dogs. Unfortunately, the couple's obnoxious son also has a key to the place and things take a turn for the worse for Anna and she has to flee from her job for the first time in her career.
We then travel back in time to when Anna was a child, growing up in foster care, and moving around, a lot, never having a family or home of her own, and being envious of her friends that do.
The last timeline is from when Anna was studying at Oxford College and where she met her best friend Kate and her first love and heart-breaker Max.
Home was quite a difficult read and it took me a long time to get through it. It reads like a therapy session with a woman who feels lost and betrayed in this world and doesn't know who she is or what she really wants from life except that she wants to belong.
The story is certainly touching and had me wanting to put my arms around Anna, even if sometimes she did grate on me a little.
Home is a book you need to take your time with and one that will stay with you long after you close the pages. It is no easy read but it is certainly fulfilling and worthy of your time.
---
Purchase Online:
Penny Parkes

Penny Parkes survived a Convent education largely thanks to a ready supply of inappropriate novels and her passion for writing and languages.
She studied International Management in Bath and Germany, before gaining experience with the BBC. She then set up an independent Film Location Agency and spent many happy years organising shoots for film, television and advertising – thereby ensuring that she was never short of travel opportunities, freelance writing projects or entertaining anecdotes.
Penny now lives in the Cotswolds with her husband, two children and a geriatric spaniel. She will often be found plotting epic train journeys through the Alps, baking gluten-free goodies or attempting to prove that you can, in fact, teach an old dog new tricks.
Author Links:
---
The above links are affiliate links. I receive a very small percentage from each item you purchase via these links, which is at no extra cost to you. If you are thinking about purchasing the book, please think about using one of the links. All money received goes back into the blog and helps to keep it running. Thank you.