Baby Worries by Frances Mackay – Book Review
Baby Worries by Frances Mackay – Book Review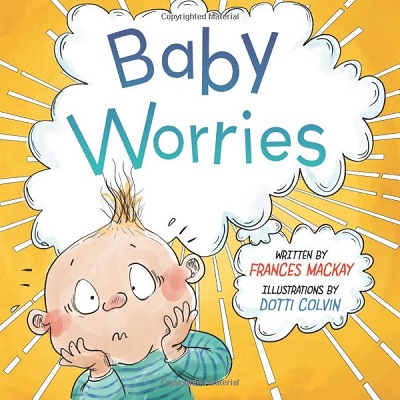 Baby Worries
Author – Frances Mackay
Illustrator – Dotti Colvin
Release Date – 2nd November 2022
Pages – 32
ISBN 13 – 978-0646860220
Format – ebook, paperback, hardcover
Star Rating – 5
I received a free copy of this book.
This post contains affiliate links.

Synopsis
This funny, imaginative picture book celebrates the love, humour and banter that ensues when families get together. After all, who can resist the temptation to say, 'He has your eyes', or 'I wonder if he'll look like me?'
The baby meets his extended family for the first time and starts to worry what he might look like when he grows up. Will he inherit the huge, bushy eyebrows of Uncle Max? Perhaps he'll have the wild, uncontrollable hair of Cousin Fern?
Or maybe he'll have…well, you get the idea.
This picture book is sure to get everyone, young and old, giggling and laughing together – especially at the end where there is an added twist to the tale!
With its light-hearted approach to worrying, it's the perfect discussion starter for exploring a child's own feelings and emotions.
As baby's family all come to see him he hears them asking one another what he will look like as he gets older. Will he have his aunt's large lips or his uncle's bushy eyebrows? Will he be a right little monkey or as strong as a lion?
Baby takes in everything that is being said and likes some of the comments but others not so much and he worries about how he is going to look as he ages.
Baby Worries is a highly amusing children's short picture book that will have its readers giggling throughout. Glossing over the fact that a very small child wouldn't actually understand the comments, the author for comedic effect has gone for the 'what if?' approach which really works.
The story is perfectly illustrated and it is these wacky, cartoon-like illustrations that gave me such a laugh, there are also 11 pages with a hidden cat for children to find too, so remember this when reading.
I loved that the author has also shown how the baby looked as an older boy and added a layer of humour to that too.
This is a book that is light-hearted, good fun, and entertaining throughout. If you are looking for a story to keep your young children entertained then this is most certainly the one.
---
Purchase Online:
Frances Mackay

Frances Mackay is an educational and children's book author.
Born in Tasmania where she began her teaching career, she moved to the UK in 1985 and continued teaching in England until 1997 when she left to set up an educational publishing company. After the company was sold in 2007, Frances resumed her writing career, working for a variety of publishers in the UK and Australia and has had over 90 books published. She specialises in books for Primary Schools and children from ages 2 to 12.
Author Links:
---
The above links are affiliate links. I receive a very small percentage from each item you purchase via these links, which is at no extra cost to you. If you are thinking about purchasing the book, please think about using one of the links. All money received goes back into the blog and helps to keep it running. Thank you.