Star Light, Star Bright by Anna Prokos – Book Review
Star Light, Star Bright by Anna Prokos – Book Review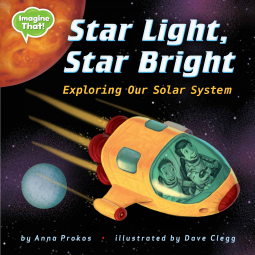 Star Light, Star Bright


Exploring Our Solar System (Imagine That!)
Author – Anna Prokos
Illustrator – Dave Clegg
Publisher – Red Chair Press
Pages – 32
Release Date – 1st January 2017
ISBN-13 – 978-1634401586
Format – paperback
Reviewer – Stacey
I received a free copy of this book
Post Contains Affiliate Links

Have you ever laid on the ground at night looking up at the twinkling stars? Those stars are the millions of planets, moons, suns and space dust that make up the Milky Way Galaxy.
Our Solar System lives in this galaxy and we are viewing Earth's neighbours when we look at the night sky. Sometimes you might see a shooting star streak across the sky. This is usually a meteoroid, small rock or ice that enters the Earth's atmosphere and burns up.
Imagine what it must be like to zip through space and look back to Earth where kids around the globe are gazing into the night sky. Includes the most up-to-date findings from the New Horizons satellite.

Jackson and his best friend Wyatt were camping out for the night. They were laid down, outside their tent, looking at the night sky when a shooting star zoomed by. Now everyone knows that you have to 'make a wish' when you see one, so the boys did.
The next minute they were up in space, as their wishes came true. When they saw the sun, which is also a star, they made another wish, a wish that would see the boys visiting all the planets in the solar system, plus the moon.
From rocky grey Mercury, through to gaseous, windy Neptune, the boys visited each of the eight planets before heading back home again.
Star Light, Star Bright is a mixture of fiction and facts. I think children will love how Anna has combined the two into one fun, engaging story, with interesting characters, including Max the dog.
As the boys hop from one planet to the next, they teach us fascinating facts about each one, plus a great close up of the planets so kids can see what they look like too.
At the back of the book is a facts page, keywords to remember, and a list of more books to read, which will help further the children's knowledge of the solar system.
Star Light, Star Bright is beautifully illustrated, will lots of detail, and will catch and keep the attention. This is a book that will be read over and over again, especially by those who love to learn all about space. With its joint facts and fiction, kids get a wonderful story and knowledge too, perfect.
Book Reviewed by Stacey
Purchase Links