The Great Skeeter Battle by Geoffrey Saign – Book Review
The Great Skeeter Battle by Geoffrey Saign – Book Review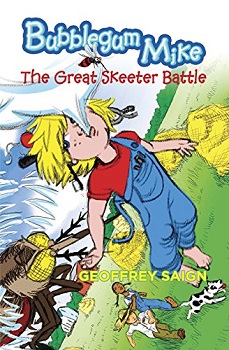 The Great Skeeter Battle


Bubblegum Mike, Book One
Author – Geoffrey Saign
Publisher – Kiraku Press
Pages – 118
Release Date – 25th December 2016
ISBN-13 – 978-0998158303
Format – ebook, paperback
Reviewer – Stacey
I received a free copy of this book
Post Contains Affiliate Links

Mike loves the newfangled bubblegum. He also wants friends, so he accepts a dare to float with the gum. While floating, he escapes a giant skeeter attack. Everyone thinks he's brave, but he would rather hide in his barn.
When giant mosquitoes attack the town, Mike must decide if he can learn the real meaning of friendship, and use the floating gum to become a true hero.
A story with quirky humor, action, friendship, and monsters…

Mike Joseph had some new bubblegum, one that when he blew a bubble, made him float. School friends Skim and Teddy dared Mike to chew 20 pieces of the bubblegum and blow 20 bubbles.
Mike accepted the challenge, but with each bubble that he blew he got higher and higher. The next minute he heard a zzzzzzz coming towards him, a mosquito, a giant mosquito, a skeeter. The skeeter flew straight into the bubbles, but it didn't pop them all. With it stuck in the bubblegum, Mike let go of the bubbles and the skeeter and the bubblegum floated off into the forest.
Not wanting to tell people that he could float, the three friends told people that they had saved Mike's dog from the skeeter, people thought that they were heroes, but Mike didn't feel, nor want to be a hero.
The school even put on a play about the children's bravery, so when the town became overridden with the giant mosquito's, they look towards Mike to help them get rid of them, a very scared Mike.
The Great Skeeter Battle, is a fun, hilarious older children's book. It will capture their imaginations, not only with the idea that bubblegum can make you float, but with the idea of giant mosquito's, ones big enough to steal cows!!
Starting out as a lonely, not very confident young boy, Mike's characters grew as the book progressed, especially when he knew he couldn't let people down, he had to face his fears and conquer them.
The book has great illustrations, which perfectly capture the moments of each chapter.
The Great Skeeter Battle is a little predictable and doesn't have many twists to it. It felt like reading one of the old classics, as Mike is just a normal young boy thrown into a strange, scary situation.
On a side note, I'd never heard the word skeeter used to describe a mosquito before.
Book Reviewed by Stacey
Purchase Links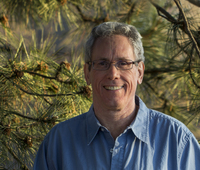 Geoffrey Saign's passion for nature and wildlife led to his award-winning fantasy series, WhipEye Chronicles. The author of the Divided Draghons & Bubblegum Mike series, his first books were Green Essentials: What You Need to Know About the Environment, African Cats and Great Apes.
After teaching a self-awareness class for nearly a decade, combined with his own background in stress reduction, he wrote the professionally acclaimed Stress Free from Rainy Day Syndrome: A Practical Guide to End Stress, Restore Calm, and Find Happiness.
He has a background in biology, assisted in field research with hummingbirds and humpback whales, and sailed as far away as Australia. With more than twenty years of experience working in special education, he has taught adults and children everything from sailing to self-awareness to novel writing. He lives in St. Paul, Minnesota.
Author Links