Outsourced by Eric J. Gates – Book Review
Outsourced by Eric J. Gates – Book Review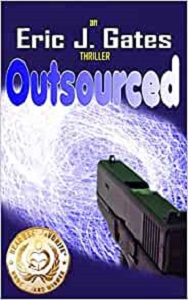 Outsourced
Author – Eric J. Gates
Publisher – CreateSpace
Pages – 364
Release Date – 18th September 2014
ISBN-13 – 978-1502379948
Format – ebook, paperback
Reviewer – Lisa
I received a free copy of this book
Post Contains Affiliate Links

What's the most dangerous gift a fan could send to an author? And if that fan was a professional assassin?
New York-based writer Nic Stiles receives a strange package in the mail. It's not long before he realises what it represents will change his life… with deadly consequences. Others want the package's contents too, including a high-tech Intelligence agency who will stop at nothing to obtain it. …and the sender wants it back!
The new fast-paced SUSPENSE THRILLER from Eric J. Gates will make YOU question your Destiny!

This approach to reading this book was completely off albeit accidental. I set it down at about a 1/3 in and didn't come back to it straight off, I think there was about a week between lifting it again. Had I read it all at once I would have adored it and been completely sucked in.
The first section that I read was still just introducing the characters along with the story line so, naturally, when I came back I had to go back a couple of chapters to refresh my memory. Anyways…..that is by the by and the reason I am telling you is because I advise that if you are going to read this then don't leave too long a period before coming back to it like I did.
An author, Nic Stiles, receives a pen however it comes with a mysterious box attached. Now we all know that when something in a book has its concept adjusted there is something going to go wrong somewhere along the line. With the pen, there is a letter which happens to be from a known murderer, enter the 'Dun dun DUN!!'
Robert Polanski, a mass murderer who is 'Teflon coated', forwarded his pen on to an author and has decided he wants it back. This leads to Nic Stiles meeting someone he had never met before, even though they work for the same publisher, Grayson Fallon who is also a thriller writer but they have been portrayed in the media as rivals thanks to the publishers. They end up working together trying to get to the bottom of the pen and its attributes. A theoretical physicist tries to help them understand why and how the pen does what it does.
Thanks to Polanski, the 'device' (the name the pen is known by) is being chased by the government and they send in Major Mason. She is an amazing character and thanks to her we have a lot of action.
The last 1/3 or so of the book is very high paced and had me holding my breath quite a bit! The chapters are very short and, in turn, you don't have a lot of time to have your thoughts move on before something else is sprung on you.
This is a story that makes you need to think as there is a lot of theoretical ideas in the storyline along with twists and turns. We have, as a result of this pen, a touch of the sci-fi brought into a thriller. I felt that this book could be very well be turned into a film given the pace it went and the intensity of the storyline. Gates is clearly a very intelligent man and knows exactly how to write his characters to love even who you should hate.
I will definitely be reading Outsourced again, only not how I read it this time. I will sit down and try to absorb it all in a shorter period of time. I give this a 4.5 star rating
Book Reviewed by Lisa
Purchase Links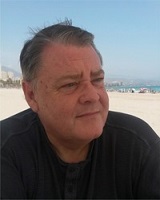 Eric J. Gates has had a curious life filled with the stuff of thriller novels. Writing Operating Systems for Supercomputers, cracking cryptographic codes under extreme pressure using only paper and pen and teaching cyberwarfare to spies are just a few of the moments he's willing to recall.
He is an ex-International Consultant who has travelled extensively worldwide, speaks several languages, and has had articles and papers published in six different countries, as well as radio and TV spots. His specialty, Information Technology Security, has brought him into contact with the Military and Intelligence communities on numerous occasions.
He is also an expert martial artist, holding 14 black belt degrees in distinct disciplines. He has taught his skills to Police and Military personnel, as well as to the public.
He now writes thriller novels, drawing on his experiences with the confidential and secret worlds that surround us.
Author Links