The Burning Girls by C. J. Tudor – Book Review
The Burning Girls by C. J. Tudor – Book Review
The Burning Girls
Author – C. J. Tudor
Publisher – Michael Joseph
Pages – 400
Released – 21st January 2021
ISBN-13 – 978-0241371305
Format – ebook, paperback, hardcover, audio
Rating – 5 Stars
I received a free copy of this book.
This post contains affiliate links.


Synopsis
500 years ago: eight martyrs were burnt to death
30 years ago: two teenagers vanished without trace
Two months ago: the vicar committed suicide
Welcome to Chapel Croft.
For Rev Jack Brooks and teenage daughter Flo it's supposed to be a fresh start. New job, new home. But, as Jack knows, the past isn't easily forgotten.
And in a close-knit community where the residents seem as proud as they are haunted by Chapel Croft's history, Jack must tread carefully. Ancient superstitions as well as a mistrust of outsiders will be hard to overcome.
Yet right away Jack has more frightening concerns.
Why is Flo plagued by visions of burning girls?
Who's sending them sinister, threatening messages?
And why did no one mention that the last vicar killed himself?
Chapel Croft's secrets lie deep and dark as the tomb. Jack wouldn't touch them if not for Flo – anything to protect Flo.
But the past is catching up with Chapel Croft – and with Jack. For old ghosts with scores to settle will never rest . . .
The Burning Girls begins with Reverend Jack Brooks being assigned a new church after a devastating event at her current parish in Nottingham. She is sent to Chapel Croft, a small village in the Sussex countryside, relocating with her fifteen-year-old daughter Flo, who loves photography.
When the pair arrive at their new home they learn all about the Sussex Martyrs who were killed and burnt in the town 500 years ago and about two young girls who went missing 30 years ago, never to be seen again. They also learn that the previous vicar was looking into their disappearance before he was found hanging in the church.
Not long into their stay Jack and Flo both have visions of young girls as well as the smell of burning and an old exorcism kit being left for Jack. With a town full of superstitions and a strange house out in the woods in which a family just up and left in the night leaving everything behind, what have the mother and daughter let themselves in for moving to Chapel Croft?
What I love about author C. J. Tudors is how down to earth and relatable her characters and settings are. They are normal places and normal people that have come across strange and unusual happenings. This is also how she writes too which makes the story so easy to read and get lost in as you are sucked into the atmospheric plot.
You wouldn't think that Jack Brooks was a Reverend from her attitude and swearing. She tries so hard not to judge people but often does. She is thrown in at the deep end with her new location especially into a town that is still mourning a loved Reverend.
The story is creepy, gives you a sense of foreboding, and at times scared to turn the pages. There are little hints along the way that once you get to the last 4/5 chapters you realise were there all along and your eyes are suddenly opened to the events throughout the book.
The plot is dark and twisty. The tension piles on as the book progresses. You get a real sense of dread at times as you know something is about to happen but you are not sure what – cue scary music that makes you hide behind a cushion. The book is truly spectacular and is a must-read if you love books that give you goose bumps and sleeping with one eye open!
Purchase Online From:
---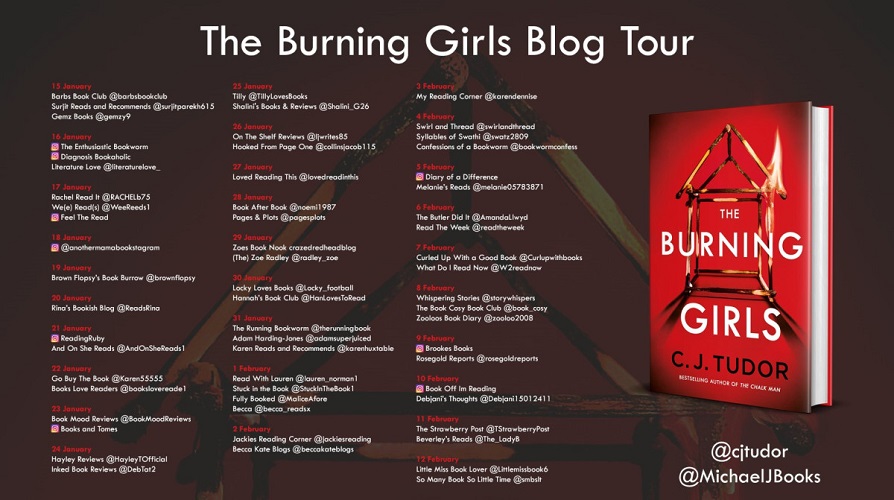 ---
What did you think of 'The Burning Girls'? Share your thoughts in the comment section below!
---
The above links are affiliate links. I receive a very small percentage from each item you purchase via these link, which is at no extra cost to you. If you are thinking about purchasing the book, please think about using one of the links. All money received goes back into the blog and helps to keep it running. Thank you.