Missing Pieces by Laura Pearson – Book Review
Missing Pieces by Laura Pearson – Book Review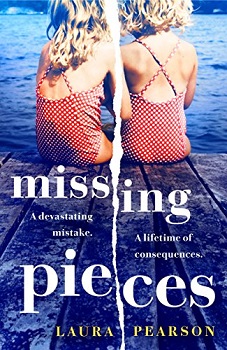 Missing Pieces
Author – Laura Pearson
Publisher – Agora Books
Pages – 277
Released – 21st June 2018
ISBN-13 – 978-1912194759
Format – ebook, paperback
Reviewer – Stacey
Rating – 4 Stars
I received a free copy of this book
What if the one thing that kept you together was breaking you apart?
All Linda wants to do is sleep. She won't look at her husband. She can't stand her daughter. And she doesn't want to have this baby. Having this baby means moving on, and she just wants to go back to before. Before their family was torn apart, before the blame was placed.
Alienated by their own guilt and struggling to cope, the Sadler family unravels. They grow up, grow apart, never talking about their terrible secret.
That is until Linda's daughter finds out she's pregnant. Before she brings another Sadler into the world, Bea needs to know what happened twenty-five years ago. What did they keep from her? What happened that couldn't be fixed?
A devastating mistake, a lifetime of consequences. How can you repair something broken if pieces are missing?
The book opens on 5th August 1988, 21 days after. We meet a heavily pregnant Linda Sadler who is trying to come to terms with a loss and feeling isolated. We then discover that this loss is that of her three-year-old daughter Phoebe who has died in a tragic accident, but we are left to wonder what actually happened as this is not revealed until near the end of the book.
Over the course of the next half of the book, we follow Laura, her husband Tom and her older daughter Esme as they each try to deal with their grief separately. Linda also gives birth to a beautiful baby girl, Beatrice (Bea). However, there is no love from Linda to Bea, she feels cold towards her new daughter, a daughter she wishes she could have aborted.
The second half of the book opens 25 years later and the youngest daughter, Bea is now pregnant. Bea left the family home years ago as it wasn't easy being the child that obviously wasn't wanted. Bea decides that it is time to go over old ground and in this section the family eventually open up about their feelings and what actually happened on that fateful day.
There's no doubting the fact that Laura Pearson's Missing Pieces is poignant, heart-breaking and raw. It will have you reaching for the tissues on more than one occasion.
This is Ms. Pearson's debut novel and I think she has done a wonderful job. The writing was superb, there was enough detail to keep me intrigued as to what when on and the characters all had their own unique qualities and all perfectly realistic. It did feel at times that Linda was very selfish, but unless you have been in the grieving process you can't understand how hard and vulnerable it can make you feel. Also, everyone grieves differently and some do push others away, sadly.
I found I related more to the first half of the book than the second. Perhaps because I found this more interesting as in character building and the suspense and mystery surrounding the circumstances of Phoebe's death. Whilst I believe that there is no greater pain than losing a child, the build had me expecting something different to what actually occurred. Don't get me wrong, I wasn't disappointed, I just expected there to have been more to Phoebe's death.
This is a beautiful book that deals with life, bereavement and how those that are still living learn to deal with their grief in their own way. I actually sat and read this in one sitting as I was that engaged with the plot.
Reviewed by Stacey
---
Purchase online from:
---
About the Author

Laura Pearson has an MA in Creative Writing from the University of Chichester. She lives in Leicestershire with her husband and their two children. Missing Pieces is her first novel.





---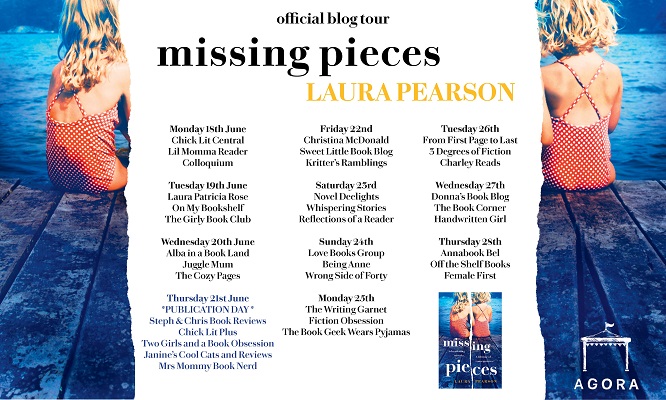 Blog posts straight to email via Bloglovin – Like us on Facebook – Follow us on Twitter