Hologram Destruction by Ed Sheehan – Book Review
Hologram Destruction by Ed Sheehan – Book Review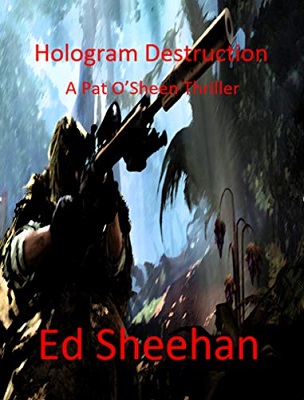 Hologram Destruction
Hologram Trilogy Book Three
Author – Ed Sheehan
Publisher – Bowker
Pages – 342
Released – 24th June 2019
ISBN-13 – 978-0988859654
Format – ebook, paperback
Review by – Stacey
Rating – 3.5 Stars
I received a free copy of this book.
This post contains affiliate links.


Readers who like mystery thrillers and like to follow action characters like Jason Bourne, Mitch Rapp, and Jack Reacher through many novels, will enjoy following retired legendary covert operative, Pat O'Sheen, and his loving family through this perilous journey.
Pat O'Sheen is a religious man whose devotion to his wife and high-school sweetheart, Dale, and their three kids is top priority along with God and Country. He retired from army special forces with unique talents and a passion to protect American soldiers. Pat had never told Dale the details of the violence in his top-secret, covert career.
A CNN van drives into O'Sheen's private cul-de-sac and declares to the world that Pat is an unsung American hero while claiming that he is responsible for the sudden decrease in deaths of American soldiers in Afghanistan. CNN reports that a source in German intelligence credits O'Sheen for destroying a rogue top-secret weapons factory in what was once East Berlin, and that the U. S. government denied any involvement in the operation.
The report infuriates Dale and the American congress. The German ambassador in D.C. demands an investigation. Pat avoids a subpoena from congress by flying to Europe with his son to investigate the German source and is drawn back into the ongoing hologram conspiracy.

Carrying on the series with book three after 'Hologram Conspiracy' and 'Hologram Deception', 'Hologram Destruction' sees ex-army special forces soldier Pat O'Sheen on a new kind of mission, this time to discover who has been sending reports about him to the media.
The story opens with a CNN news team outside Pat's house wanting to know whether the information they have on him is true, is he really an American hero? They also have details of his missions. Pat's wife, who has never been told anything about Pat's time when he was on tour, is upset and hurt by the revelations. But more concerning is who is leaking the information and why?
The book is action-based and family orientated, a clever mix of both. Pat is a wonderful character though I would have liked to have seen him with a few more flaws as he is put on a pedestal and at times it felt like he had a halo over his head and could do no wrong. Every move he makes is calculated and of course, he's always one step ahead of the bad guy.
The book moves along at a fast pace, even the beginning which is all to do with Pat and his family coming to terms with what has been leaked and trying to work out who could have done it. Pat has great family and friends who all run around to help him. Especially his wife Dale who after a brief time of feeling let down understands why she was never told about his missions.
The book is the third in a series but it can be read as a standalone. I haven't read the others but fully understood this one, though I always recommend starting a series at the beginning that way you are fully in the loop. The plot has you eager to keep reading and a desire to know the truth. You can tell from the correct terms and the military and police aspects that author Ed Sheehan has done some extensive research.
A decent series with a heroic, likeable, ageing, protagonist that was eventful and interesting the whole way through.
Book Reviewer – Stacey
---
Purchase online from:
---
About the Author

Ed has a background in technical research writing and have been published by the International Society of Explosives Engineers. The historical and technical aspects of my novels is thoroughly researched. Hologram Conspiracy is the first of a trilogy.
Hologram Deception and Hologram Destruction are in edit and cover design. He is married to his high school sweetheart, and they have three kids and three grand-kids. They now live in Alabama near their grand-kids.

---
What did you think of Hologram Destruction? Share your thoughts in the comment section below!
---
The above links are affiliate links. I receive a very small percentage from each item you purchase via these link, which is at no extra cost to you. If you are thinking about purchasing the book, please think about using one of the links. All money received goes back into the blog and helps to keep it running. Thank you.
Like us on Facebook – Tweet us on Twitter – Pin us on Pinterest