A Wing and a Prayer by M W Arnold – Book Review
A Wing and a Prayer by M W Arnold – Book Review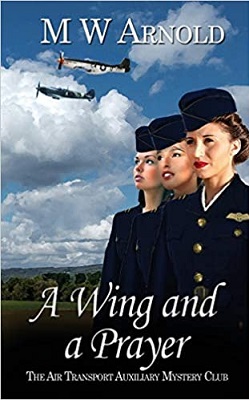 A Wing and a Prayer
Author – M W Arnold
Publisher – The Wild Rose Press
Pages – 290
Released – 9th November 2020
ISBN-13 – 978-1509233014
Format – ebook, paperback
Review by – Julie
Rating – 4 Stars
I received a free copy of this book.
This post contains affiliate links.


When Betty Palmer's sister dies under suspicious circumstances whilst landing her Tiger Moth, Betty and three other women pilots of the Air Transport Auxiliary in WWII England unite to discover who killed her and why.
Estranged from her family, Penny Blake wants simply to belong. American Doris Winter, running from a personal tragedy, yearns for a new start. Naturally shy Mary Whitworth-Baines struggles to fit in. Together though, they are a force to be reckoned with as they face the mystery that confronts them.
Against the backdrop of war, when ties of friendship are exceptionally strong, they strive to unravel the puzzle's complex threads, risking their lives as they seek justice for Betty's sister.

A Wing and A Prayer is the first novel in a new series of wartime adventures from British-based author, M W Arnold. It is written in the third person and the past tense and throws together four young women from diverse backgrounds who serve together in the ATA at a base in Hampshire. As trained pilots, their role is to deliver pristine aircrafts to bases around the country.
We quickly meet Penny, Doris and Mary who are new recruits and are given a bit of backstory to settle them into the tale. Each has a very different personality and upbringing but they bond as they billet together in Betty's cottage. Betty has recently lost her twin sister in suspicious circumstances. Betty believes she was killed but why and by whom? The intrepid three then turn detective to uncover the truth. In addition, we have a bit of romance and intrigue thrown in, before all the pieces are fitted together.
This is an inverted tale, so we know who the perpetrator is quite quickly. It's therefore more of a how-will-they-be-caught, rather than a whodunit. This is a challenging approach as, without the promise of a climactic unmasking of the villain, the plot has to rely on building tension to maintain the reader's interest.
I appreciated the scene-setting descriptive passages and a careful placement of metaphors and similes always add layers of depth to a tale. A dramatic event at the beginning is another useful device to hook readers. In addition, the author has cleverly tapped into his knowledge of Second World War aircrafts and I very much enjoyed finding out about them.
Some of the dialogue is rather modern; I'm not sure anyone would have referred to a 'train station' in England at that time. There are numerous references to Agatha Christie's fictional amateur detective, Miss Marple. She had just made her second appearance in a full length novel in 1942, so I'm not sure how much impact the character had made on the literary world at that time. Over-labouring any tongue-in-cheek point can lose its impact if used excessively.
The historical backdrop to the mystery gave enormous potential but equally, significant challenges when attempting to capture the wartime mood of the nation. Using American English spelling to paint a picture of an English village in the forties will doubtless irritate some and I confess to not understanding the rationale for this.
The author has highlighted an aspect of World War II which attracts little publicity. These unsung members of the ATA were clearly a vital cog in the wheel of the British fighting machine and I commend the author for weaving a very readable escapist yarn around their work. There is a little gem of an idea here with a female-dominated cast. I'm not convinced that the characters were completely three-dimensional but others may find a depth I've missed and objectively, I award four stars.
Book Reviewer – Julie
---
Purchase online from:
---
About the Author

I grew up outside Bournemouth on the south coast of Dorset and at just shy of 18, I entered the Royal Air Force. For the next 16 years, I traversed the world having a great time!
There came a point, however, where I decided it was time to set down some roots. At about this time, I started to dabble in writing again. In 2013, I joined the Romantic Novelists Association and had my first novel, a romantic drama, 'The Season for Love', published in December 2017; then took a time out.
'A Wing and a Prayer', book 1 in the 'Broken Wings' series, is my first Historical Saga. With my longstanding love of history, this seemed a genre ready made for myself. I am published by The Wild Rose Press.



---
What did you think of A Wing and a Prayer? Share your thoughts in the comment section below!
---
The above links are affiliate links. I receive a very small percentage from each item you purchase via these link, which is at no extra cost to you. If you are thinking about purchasing the book, please think about using one of the links. All money received goes back into the blog and helps to keep it running. Thank you.
Like us on Facebook – Tweet us on Twitter – Pin us on Pinterest