The Christmas Heatwave by K R Murray – Book Review
The Christmas Heatwave by K R Murray – Book Review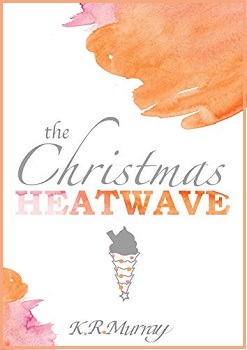 The Christmas Heatwave
Author – K R Murray
Pages – 96
Release Date – 22nd October 2016
Format – ebook
Reviewer – Stacey
I received a free copy of this book
Post Contains Affiliate Links

"On the radio today someone was saying this is the end of the world."
"Well, this wouldn't be a bad last day on earth would it?"
On Christmas day, Tom, Jessie and Olive each wake up alone. But they're not too distracted by their own problems to overlook that there is something a bit different about this Christmas.
While the rest of the country reels at the news of a severe heatwave hitting the UK, the change in season brings a change in fortune for these three outcasts…

The Christmas Heatwave is a novella of only 96 pages, thus it's quite hard to give you a snippet of the plot without giving too much away.
Awaking on Christmas morning, Tom thought that he was coming down with a cold, as he felt like he was burning up. Taking himself to the window, he opened it, but he wasn't met with a gush of cold air rushing in. Outside felt hotter than it was inside. Switching on the radio the presenter announced that the the weather was thirty-nine degrees, unprecedented for this time of year, and that chaos was already ensuing on the road as reports of them being damaged by the severe heat came in.
Jessie awoke to the sound of the radio announcing that emergency procedures were being put in place at the zoo due to the unseasonable warm weather. She was looking forward to spending Christmas with her dad and his family, but as usual, her 'troubled' step sister Hannah came before her, so it looked like Christmas Day was going to be another solo affair.
Olive woke alone on Christmas morning, to the sun already bright in the sky. Alone in the house that was once owned by her grand parents, she thought of Malcolm, her deceased husband, missing him terribly. Watching passer-by's she was amused at their attire. "Must be tourists", she thought, as they were dressed in shorts and t-shirts.
The Christmas Heatwave throws away all the usual traditions that you know, and link to Christmas. The three characters are all lovable in their own way. They each have a different story to tell about why they are not celebrating Christmas Day with their loved ones, though Tom does get some time to spend with his son George.
The heatwave itself is in the backdrop of what really is going on, as the three separate individuals lives' start to interweave. The story is unique in the sense that it's a Christmas story without the snow, cold air, and people sitting around the table with lots of relatives enjoying the festivities with their loved ones.
It is a poignant story that deals with the fact that Christmas isn't always the most 'magical time of the year' for everyone.
Book Reviewed by Stacey
Purchase Links