Basically Frightened by Vasily Pugh – Book Review
Basically Frightened by Vasily Pugh – Book Review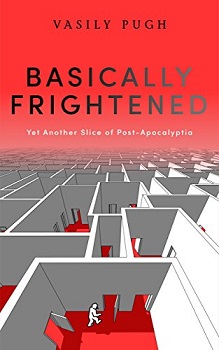 Basically Frightened


Yet Another Slice of Post-Apocalyptia
Author – Vasily Pugh
Pages – 219
Release Date – 9th September 2016
Format – ebook
Reviewer – Nia
I received a free copy of this book
Post Contains Affiliate Links

It's time to open the shutters, put on your best shirt and leave your habitation – a new Post-Apocalyptic world awaits. On your journey you'll meet the moderately deranged, the vaguely idiotic and those who think Dystopia might just be the biggest break they've had in years.
This is the deliciously different post-Pandemic world of 'Basically Frightened', a book that combines thrills, spills and a dash of wit to shake the genre from the doldrums.

This book was a post-apocalyptic book with a difference, the world's population has been decimated by a disease and the survivors are designated either immune or semi-immune. It's nothing as sexy as a zombie outbreak or nuclear war, or even a government created super-virus released into the environment by mistake – it's (as far as we know) a naturally occurring disease which human immune systems weren't prepared for.
This tale is told in the first person by a narrator who has been designated semi-immune and has discovered that it's getting more difficult to survive on his own, with people banding together to pool resources, and in some cases, steal from other groups and loners.
It's also pretty tough on a person's mental health to be completely isolated for so long, even if they do have an extensive DVD collection, so he sets out to go and join a group of survivors based in another town.
Teaming up with other individuals has its perils though and he tries his best to fit in and be accepted by his new companions. The interesting thing about this is that though he adapts his behaviour completely to make himself useful and completely inoffensive to them so that he isn't kicked out to fend for himself, he seems to invest in it only as a survival strategy and views everything he does with an emotional detachment.
I'm not sure if the author intended to do this to represent how a person would behave following the huge trauma of losing most of the world, but it did make him difficult to relate to, and to like, during the course of the novel. He also speaks in a very long winded and dry way, which I did find a bit tedious at points – dry humour is great but only when you can be sure it's intended to be humorous!
I really enjoyed the concept of the story, a more mundane survival story which includes pinching a load of things from the local Spar long after the owners have disappeared and the virtues of Pound shops. However, despite knowing that the writing style was being used to represent the thoughts of a man who's been completely isolated for however long without having anyone to talk to, it was tough going in places and not as entertaining as it could have been.
I would recommend Basically Frightened for people looking for a change from the traditional post-apocalyptic novel, particularly if you enjoy dry British humour and little in-jokes about British culture.
Book Reviewed by Nia
Purchase Links