The Silver Dagger by Angela Dandy – Book Review
The Silver Dagger by Angela Dandy – Book Review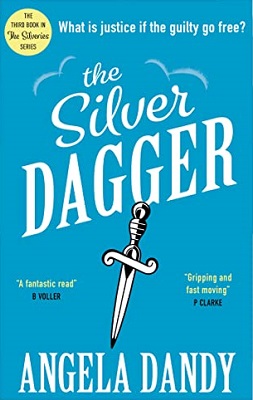 The Silver Dagger
The Silveries Book Three
Author – Angela Dandy
Publisher – Gaia & Fenrir Publishing
Release Date – 22nd May 2023
Pages – 320
ISBN 13 – 978-1915208170
Format – ebook, paperback
Star Rating – 5
I received a free copy of this book.
This post contains affiliate links.

Synopsis
Amed Singh crosses continents to be schooled at St John's College, a private school for boys. Built on the same land now occupied by Magnolia Court, The college closed in 1985.
Old buildings harbour dark secrets. As the refurbishment of the last of the outbuildings draws to a close, Stan makes a startling discovery.
Journeying back in time to 1985, the Silveries uncover an unsolved crime that has lain buried for the past thirty-seven years. Investigative journalist, Gabby, returns to Magnolia Court and soon finds that there are those who will go to any length to ensure that the past remains buried.
Innocent or guilty, the stakes are high.
'The Silver Dagger' is the latest novel in the 'Silveries' series by British-based author, Angela Dandy and takes us back to meet the residents of Magnolia Court. Quickly we're transported to Jaipur in 1985, where we're introduced to thirteen-year-old Ahmed Singh who
makes a reasonable living as a city tour guide. We follow his journey to England where he is to be educated at St John's College in Stroud and that's where this story truly begins.
The truth behind what happened at the college lays hidden for almost four decades, until the enterprising residents of Magnolia Court decide to accept the challenge of returning a silver dagger to its rightful owner. They are again fortuitously joined by Gabby, a niece of one of the residents, who is also a well-respected investigative journalist with some helpful contacts. The trail of misery, deceit and cruelty the group uncover spurs them on to bring closure to those who were wronged all those years ago and sees a murderer brought to justice.
The story is written from the perspective of several leading players in this drama and we have a bit of inclusion in the form of first person narrative from Sam, a new resident of Magnolia Court, at the beginning and end of the story.
The pace is consistent throughout with no unnecessary padding and each chapter serves a purpose as the layers of the mystery are peeled away.
I had the pleasure of reviewing a previous book in this series 'The Silver Sting' and am delighted that Angela has taken constructive feedback to produce a piece of work of which she can rightly be proud. This story works well with Ahmed in particular being a strong character for the reader to really care about.
Some of the journey towards the conclusion is perhaps a little unlikely but I'm very happy to suspend reality for a feel good read. I commend the author for a well-researched and thoughtfully constructed story and am pleased to award a maximum five stars.
---
Purchase Online:
Angela Dandy

Born in Grantham, I attended school in Newton Abbot before departing for a career in London. Majoring in IT in the 70s, exploring sales, marketing, training and communications along the way, I completed my first career managing major projects.
I then embarked on my second career – writing. I wrote Lakeside while relaxing in California's National Parks. I have since published The Silver Sting and its sequel, The Silver Dollar, and now The Gypsy Killer. My stories draw on people I have come to care about and minorities whom I believe should have a voice. The characters in my book have their own unique lives. They represent the richness and diversity of life. They are a part of me.
I live in Stratford-upon-Avon and naturally love theatre. I now write plays as well as novels and short stories. In between times I make time to enjoy and entertain my family, travel, and potter in my garden.
Author Links:
---
The above links are affiliate links. I receive a very small percentage from each item you purchase via these links, which is at no extra cost to you. If you are thinking about purchasing the book, please think about using one of the links. All money received goes back into the blog and helps to keep it running. Thank you.