The Lost Diary of Samuel Pepys by Jack Jewers – Book Review
The Lost Diary of Samuel Pepys by Jack Jewers – Book Review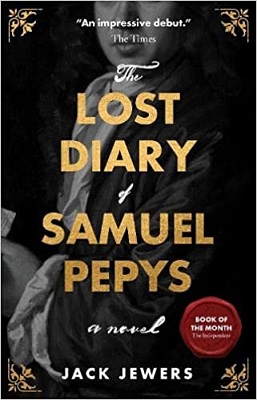 The Lost Diary of Samuel Pepys
Author – Jack Jewers
Publisher – Moonflower Publishing
Release Date – 4th August 2022
Pages – 360
ISBN 13 – 978-1919618739
Format – ebook, paperback, hardcover, audio
Star Rating – 4.5
I received a free copy of this book.
This post contains affiliate links.

Synopsis
It is the summer of 1669 and England is in dire straits.
The treasury's coffers are bare and tensions with the powerful Dutch Republic are boiling over. And now, an investigator sent by the King to look into corruption at the Royal Navy has been brutally murdered. Loathe to leave the pleasures of London, Samuel Pepys is sent dragging his feet to Portsmouth to find the truth about what happened.
Aided by his faithful assistant, Will Hewer, he soon exposes the killer. But has he got the right person? The truth may be much more sinister. And if the mystery isn't solved in time, then England could be thrown into a war that would have devastating consequences . . .
The diaries of Samuel Pepys have enthralled readers for centuries with their audacious wit, gripping detail, and racy assignations. Pepys stopped writing at the age of 36. Or did he? This action-packed historical thriller, described as "Bridgerton meets Sherlock" imagine what might have happened next.
Most people will have heard of the diarist Samuel Pepys most likely because of his diary entries on The Great Fire of London. For almost ten years between 1660 and 1669, Samuel kept a diary and then suddenly stopped, or did he?
In this work of fiction based on the life of Samuel Pepys, author Jack Jewers has Samuel still writing his diary between June 1669 and August 1669 whilst he is in Portsmouth trying to find out who is stealing from the Navy and why a young man sent undercover to find out the truth was brutally murdered.
Jack and his loyal friend Will Hewer are in Portsmouth to investigate, quietly, both of these circumstances but the truth is never an easy thing to come by and can be more deadly than first thought.
The Lost Diary of Samuel Pepys begins on 8th June 1669 with a serious, frightening, and yet amusing fire at a ladies of the night house where highly thought of men in government and senior positions are running naked into the street to save themselves, Jack included (though not quite so naked).
Throughout the next few diary entries, we discover Samuel's love for women, other than his wife. His work, Clerk to the Acts to the Navy Board, and his friendship with Will. We also witness what a great communicator he is.
The story then moves on to Portsmouth and Samuel's job as an investigator and this is where the book became unputdownable and gripping. The pace quickened and from the gentler earlier diary entries, we are now fully in historical thriller mode.
The reader not only gets to see what a brilliant investigator Samuel is, with his quick thinking and smart mind, but also to feel how London and Portsmouth felt to those who lived in the 17th Century, with their smelly, grimy, streets and thieves and vagabonds everywhere it sure didn't come across as a nice period to have live through.
The Lost Diary of Samuel Pepys was truly enthralling and I didn't want to put it down. The characterisation of not only Samuel but all of the other vast cast (there is a list at the front of the book telling you who is who), was spot on. The atmosphere that fills your head whilst reading was immense and the historical and political scenes came across strongly.
Overall, this is a must-read. It is a fabulous debut novel by author Jack Jewers and is thrilling, exciting, suspenseful, and had me on the edge of my seat in places. I loved it!
---
Purchase Online:
Jack Jewers
Jack Jewers is a filmmaker and writer, passionate about history. His career has been spent telling stories in all media, and his body of work includes film, TV, and digital media. His films have been shown at dozens of international film festivals, including Cannes, New York, Marseille, Dublin, and London's FrightFest, garnering multiple accolades, including an award from the Royal Television Society and a nomination for Best Short Film by BAFTA Wales. The Lost Diary of Samuel Pepys is his first novel.
Author Links:
---
The above links are affiliate links. I receive a very small percentage from each item you purchase via these links, which is at no extra cost to you. If you are thinking about purchasing the book, please think about using one of the links. All money received goes back into the blog and helps to keep it running. Thank you.