The Silver Sting by Angela Dandy – Book Review
The Silver Sting by Angela Dandy – Book Review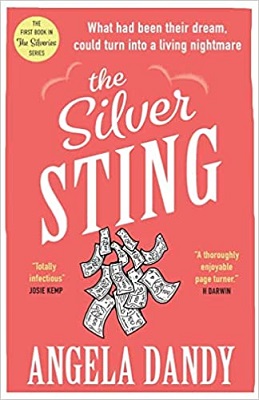 The Silver Sting
The Silveries Book One
Author – Angela Dandy
Publisher – Gaia & Fenrir Publishing
Release Date – 6th November 2022
Pages – 346
ISBN 13 – 978-1915208101
Format – ebook, paperback
Star Rating – 4
I received a free copy of this book.
This post contains affiliate links.

Synopsis
It has been thirteen years since the elderly residents of Magnolia Court were scammed out of their comfortable retirement…
A twist of fate leads them to uncover the whereabouts of the unscrupulous developer who took their money. When the residents draw on their life skills to overcome one obstacle after another, there might be some hope to recover what is theirs by right. Don't underestimate them as they embark on their quest to seek retribution.
If you enjoyed The Thursday Murder Club then you will adore Dandy's Silveries series. Read The Silver Sting now to find out whether the residents of Magnolia Court will get justice or not…
'The Silver Sting' is an unconventional story from British-based author, Angela Dandy. Gabby Fairbrother is a journalist who makes contact with her aunt and uncle after many years of estrangement. The couple live at a retirement village known as Magnolia Court and
Gabby's visit puts in place a chain of events which lead to some deep wounds being re-opened.
There are a lot of participants in this tale as would be inevitable with a story set in such an environment and we spend time getting to know several of the residents. Once organised by Gabby, a variety of talent enables the group to tackle a conman who cheated them. This
involves delving into his history with a second thread running parallel to the main plot.
This story has a dynamic set of characters taken predominantly from an age group which is often underrepresented, considering readers stretch across all generations. Yet these senior citizens prove they have plenty of life and spirit and I compliment the author for giving them an engaging adventure. The story has a steady pace for the most part but arguably did get a bit bogged down in some of the residents' backstories.
Gabby is a strong believable character and Greg proves to be a competent foil for her. The descriptive passages work well but the dialogue is slightly hampered at times in double handers by the participants using each other's names in almost every exchange. This can
make the conversation seem a little stilted.
Obviously, pulling off a sophisticated sting requires putting together specialist knowledge and skill sets. I had no difficulty in suspending reality and accepting that such people would all be living in the same community. There are lots of happy coincidences along the way and, for an accomplished conman, our villain seemed to be less than diligent in his research. I'm also not sure evidence collected via the method employed by one of our heroes would be admissible in court. Nevertheless, I'm glad the judge disagreed with me and I was very pleased to see our miscreant get his comeuppance. It was also a nice twist that in true sting style, he didn't realise he'd been duped.
It can confuse the reader to share the thoughts of more than one character in a segment so I think it is better to avoid head-hopping where possible but apart from that, I thoroughly enjoyed the story. In the tried and trusted good versus evil tradition, anyone reading this can be confident of a feel-good escapist tale with a happy ending and I award 4 well-deserved stars.
---
Purchase Online:
Angela Dandy

Born in Grantham, I attended school in Newton Abbot before departing for a career in London. Majoring in IT in the 70s, exploring sales, marketing, training and communications along the way, I completed my first career managing major projects.
I then embarked on my second career – writing. I wrote Lakeside while relaxing in California's National Parks. I have since published The Silver Sting and its sequel, The Silver Dollar, and now The Gypsy Killer. My stories draw on people I have come to care about and minorities whom I believe should have a voice. The characters in my book have their own unique lives. They represent the richness and diversity of life. They are a part of me.
I live in Stratford-upon-Avon and naturally love theatre. I now write plays as well as novels and short stories. In between times I make time to enjoy and entertain my family, travel, and potter in my garden.
Author Links:
---
The above links are affiliate links. I receive a very small percentage from each item you purchase via these links, which is at no extra cost to you. If you are thinking about purchasing the book, please think about using one of the links. All money received goes back into the blog and helps to keep it running. Thank you.